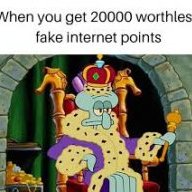 Silver Contributor
Read Fastlane!
Read Unscripted!
Speedway Pass
Intro
I was working with a client and solved his technical problem smoothly. He went on to ask what else I'm doing for work and said I'm an easy person to talk to. Then, he said he's always looking to hire people to sell for him.
We'll call him Chris. Picture a middle aged guy in a shirt, tie and slacks. He seemed likable and had no cares in the world.
The Hook
Chris made it sound as if he had his own Ebates type program where he makes great money from sending discounted traffic to big box stores. That made sense and sounded like a great fastlane to learn from...
The
1st red flag
was he suggested that he would meet me anytime and anywhere that is convenient for me. What a great guy huh?
The Line
When I actually met Chris at a coffee shop he asked me if I ever heard of (the great prophet) Kiyosaki's teachings? (
2nd HUGE red flag
)
Chris went on to say how he sends volume by signing people up to get an independent buyer number and all this stuff about saving money when people shop.
From there, I asked him if the main value he adds is saving people money. And if I can use one of those numbers to buy everything with a discount.
He looked at me and then started scribbling numbers on a legal pad of how the "commissions" stack on themselves. His glassy eyed mania reminded me of a one of my first clients. (who was ultra manipulative and delusional)
(
3rd red flag
)
Didn't Need A 4th Red Flag
Turns out after a few direct questions he works for Amway and has for over 20 years. He spends another 5 minutes telling a story of a guy who makes $100,000,000 a year just by "following the system."
And then he tells me how he personally owns 24 rental properties to have lots of passive income sources
just as Kiyosaki teaches
. His "proof" was some text from someone saying her man is jail and will pay him back later.
(Probably someone under him that owes him for random products/infotainment.)
The Sinker
I asked him if he's ever heard of the
Millionaire Fastlane
or
Unscripted
. I went on to ask him what control I have over my "business." Then, I asked him why it only costs "$63" to enter
when the potential is... soooo high.
He started talking again about the people who make millions. Chris circled how if I only had 3 networks of 9 people I'd be making $300,000 a month. "Imagine the lifestyle you can have."
He couldn't believe it when I told him I'm more of a producer than a consumer already. I told him of the time I lived off less than $1500 a month on my own. And how it was awesome since I was learning to master my life.
This caused him to fold his arms and frown. He started telling me I was one of the unlucky 80% who aren't cut out for success, blah blah blah.
I'd rate this experience 8/10 since it only cost me 25 minutes and $1.50 for a beverage.
TLDR:
Thought a fastlaner sales client wanted to hire me. Turns out he's a snake oil salesman. Took a brief vacation into the Twilight Zone.