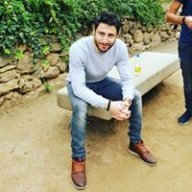 Bronze Contributor
Read Fastlane!
Read Unscripted!
Hi everyone,
I am Arthur and I am from the Netherlands. Yes you know it from Amsterdam. I am 31 years old at the moment but that changes every year it seems. I want to apolygize for my mediocre english, my writing is not awesome but I'll do my best.
At age 25 I was a lost man. After 3 different studies that I randomly chose and hated I worked at a callcenter and my life was like hell every singel day. But that job gave me something. I met a guy there and we became really good friends really fast. Soon we were talking about life and that there had to be something more than that slavery they call a job. We tried a few businesses that we absolutely failed and while I was going to try until death, he one day send me a hacked PDF file of the
Millionaire Fastlane
(sorry
@MJ DeMarco
) by now both of your books are sitting next to the TV and are my bibles so I did pay for them later
, but at that time I did not have a dime to spend and I was not planning to buy another millionaire book that tought me absolutely nothing. Anyhow he told me to read the book and while I had red a lot of books by then and did not really see the point of one more book I decided to give this one a try.
So it took me like 10 minutes and a few pages to completely get goosbumps. My soul was sleeping for like 20 years and all of the sudden it woke up!! I was completely alive for the first time sinds childhood. It was like nothing else I red before. And while I had to work the other day I red a big part of the book that same night. That was the beginning of the rest of my life. I red the book in like 2 days and when I was done with It is sended an email to MJ thanking him for writing this and telling him that one day when I'am a fastlaner I would go and visit him and talk with him. I never had an idol before, but I had one now.
By now I am an entrepreneur with a resume that most dream off, I make 5 figures a month and to be honest I think this is just the beginning. I have plans that will dubble my income in the next 2 years. After which I do not know yet if i'll sell everything and retire or keep on working, because my work is no work for me.
I want to share my experiences with you guys, and I hope MJ will read my story and be proud. I also like to help a lot of people here who are serieus about going fastlane or that are on there way.
If you red all of this, chapeu! I will tell my experiences in a nother thread since this is intrudoction only. A long one in this case.
Kind regards,
Arthur Redline
Last edited: