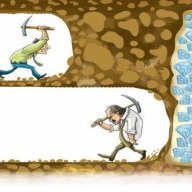 Never give up
FASTLANE INSIDER
EPIC CONTRIBUTOR
Read Fastlane!
Read Unscripted!
Speedway Pass
Watch the video first:
View: https://www.youtube.com/watch?v=B29EuKANqmE
Italy's youth is breathing new life into the country's rural areas. In the past two years, the number of young graduates - often from urban centres - starting up their businesses in the countryside has increased by 35%. Many are driven by a deep appreciation of Italy's rich local produce and have a good understanding of environmentally-friendly practices. These new forms of agriculture are now playing a significant role in youth employment and Italy's economic recovery.
One couple portrayed in the video makes more than 4000 euros a month farming silk and selling silk products, which, according to the video, is equivalent to the salary of two managers. The other guy who started a farm hired 7 people within a year and runs his company more like an online startup than your standard farm.
In the video, they mention that most of the young farmers are overqualified for the life on the farm. Which I think is actually a good thing, as the sector isn't particularly sexy for young people and probably needs some disruption.
Obviously, not every small agricultural business has the potential to scale, but I think that this interesting trend provides a lot of opportunities for the right-minded. I myself feel drawn to this sector even though I've spent my entire business life doing stuff online.
What do you think are the biggest opportunities in this industry now?
Some ideas to kick off a discussion:
an organic spin on animal products - I recently visited an organic goat farm. They primarily make a living from organic goat cheese they produce themselves. It's different than the stuff you can buy in a supermarket because it doesn't come from over-exploited goats, plus a lot of people want to support real people working on a real farm, not a faceless industrial farm. They also have some rooms for tourists (primarily families from big cities) who want to "get closer to nature" and interact with the goats.

an organic spin on vegetables - this is already big, but I believe that it will get even bigger. According to The Market Gardener: A Successful Grower's Handbook for Small-scale Organic Farming, the most profitable crops are: 1. Greenhouse tomato, 2. Mesclun mix, 3. Lettuce, 4. Greenhouse cucumber, 5. Garlic, 6. Carrots (bunch), 7. Onion, 8. Pepper, 9. Broccoli, 10. Snow/snap peas. You can sell microgreens to restaurants or maybe sell ready-made boxes you deliver directly on a weekly basis to your customers.

an organic spin on fruits - including superfruits which can be sold for higher prices and target primarily a more affluent, health-oriented buyer. Maybe work with a yoga instructor and organize fitness getaways there. You could serve superfruit smoothies, acai bowls, and offer people a unique (to them) experience of working in the orchard.
handmade/custom, etc. stuff made from natural materials you grow yourself - ideal for Etsy and similar platforms. A lot of people are interested in "natural" products and the trend is unlikely to stop.
a modern take on rural tourism - so many opportunities for rural tourism, like the goat farm I mentioned or countryside fitness getaways. Maybe you could have a small, organic farm mostly to feed yourself and your family and organize workshops to teach others how to do it or just as an educative experience for the kids who parents want them to learn that food doesn't grow in a supermarket.
Probably not all of these ideas have the potential to become a million-dollar business, but it might still be a pretty interesting way to build a lucrative business given that a lot of people in the "old" industries aren't as entrepreneurial minded as people in the crowded online space.