Limitless
Read Fastlane!
Read Unscripted!
Speedway Pass
Nov 14, 2011
2,486
10,501
A lot of times we wake up and get dragged throughout the day on routines that are not in alignment of what we want to build.
What is the MOST IMPORTANT thing for you to accomplish today?
For me, this morning was to write an email to a girl in my life that I really care about. She is stuck at a social work job that drains the life out of her. She had dreams of breaking free of a life she feels stuck in so she can live the life of her dreams. I told her the 'secret' to breaking free; repeating the information that all of us as Fastlaners know, but many others are not aware of. The theme of separating your time from your money. To put in the work first (with no expectation of return) and having the faith that it will pay off in the long run. With the right value add to the world.
I care about her because I feel her pain and I've been in her position before, the words I wrote really came from the heart and not because I wanted to get anything back. When you put your work out there to help someone else, with no expectation with anything in return, this is the truest nature of flow state and creating quality products, services, and content that are really transformative in people's lives.
After I hit send, I decided that the words I wrote were true and genuine, and they need to be shared with the world, so the MOST IMPORTANT thing for me for the rest of the day is to make a YouTube video and write and article to share the same message with the world.
Often times
we get distracted by the things that aren't important to us
and we wind up
not
building what we want to build. So by focusing on the MOST IMPORTANT thing - make it one thing that you can chunk away at today, and you'll be feeling fulfilled and satisfied when you go to bed tonight, that you'll do the same tomorrow.
Time to finish up my coffee from the coffee shop and back to YouTube video editing!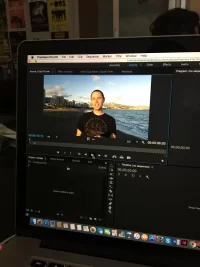 What is the MOST IMPORTANT thing to do today?
One thing, get it out there, and get the
momentum going!

This morning, it was her, right now it was you, and when I get home from the coffee shop, it's sharing this message with the YouTube community!