Silver Contributor
Read Rat-Race Escape!
Read Fastlane!
Read Unscripted!
Speedway Pass
User Power
Value/Post Ratio
109%
May 7, 2019
532
580
Webinar/Video Training on Website:
If you don't make time to watch Webinar: You have 2 Options -
1) Read Transcript online without Sound just movie subtitle [If you are in Day Job with colleagues and using Headphone]
2) Read Transcript & It will be emailed to you so that later you can watch it in home office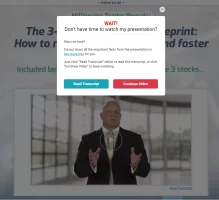 Source: Jeff Clark Trader
www.jeffclarktrader.com
My Focus is on the Pop Up Button like Software/Plugin - whatever it is
My Question is: What Software/Pop Up Button Shall I use to have those 2 features If I want to have it in my website?
1) Read Transcript or 2) Continue Watching the Video/Webinar ?