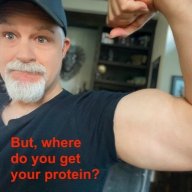 I followed the science; all I found was money.
Staff member
FASTLANE INSIDER
EPIC CONTRIBUTOR
Read Rat-Race Escape!
Read Fastlane!
Read Unscripted!
Summit Attendee
Speedway Pass
Jul 23, 2007
35,590
141,888
So StartEngine is raising money through equity...
you can have a chance at owning part of the company! Hooray!
StartEngine is an equity crowdfunding platform that is giving the public access to private investments.
invest.startengine.com
Red flag #1:
Kevin 0leary who seems to sell his soul and his endorsement to the higher bidder.
Red flag #2:
My experience with WeFunder, read here:
Folks who are interested in investing in companies via equity crowd sourcing? Avoid WeFunder. I can't speak for how the other equity-crowd-sourcing companies operate. The platform is a joke for investors, but let me tell you, as an early stage company, its a great place to get 0% loans and...
www.thefastlaneforum.com
Sum of that thread? The platform is being used by early startup entrepreneurs as a source for 0%, free loans for an indefinite period of time.
Red flag #3:
OMG, read the offering prospectus...
Of course, few people will read the fine print of the offering details....
In short, it looks like the same type of scam Wefunder allows with their companies.
They too are looking to get interest-free loans from "so called" investors which has just been renamed to "Common Stock"...
When you invest, you also relinquish your voting rights to the the majority shareholders.
That's right, you get no voting rights.
It also says the proceeds are going to marketing and administrative salaries. Of course, they can use the proceeds to pay the CEO and inner C-Suiters millions per year.
This also gives them the power to say, "
You get your money back!
" while you get no ROI regardless of company performance. And it doesn't matter if they go IPO, sold for billions, or anything...
Also, existing shareholders are able to acquire shares (likely Preferred Shares) at an undisclosed discount.
More details..
Holders of our Preferred Stock are entitled to potentially significant liquidation preferences over holders of our Common Stock if we are liquidated, including upon a sale of our company.

Holders of our outstanding Preferred Stock have liquidation preferences over holders of Common Stock being offered in this offering. This liquidation preference is paid if the amount a holder of Preferred Stock would receive under the liquidation preference is greater than the amount such holder would have received if such holder's shares of Preferred Stock had been converted to Common Stock immediately prior to the liquidation event. Holders of Series A Preferred Stock and Series T Preferred Stock are entitled to liquidation preferences superior to Series Seed Preferred Stock. See "Securities Being Offered – Preferred Stock – Right to Receive Liquidation Distributions". If a liquidation event, including a sale of our company, were to occur that resulted in a distribution of less than approximately $9 million, the holders of our Preferred Stock could be entitled to all proceeds of cash distributions.
More details...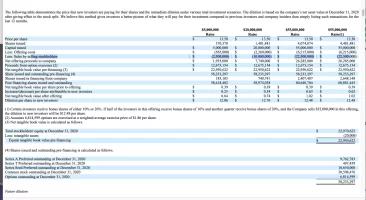 It appears much of the proceeds are going to "Selling Shareholders" -- in other words, they are getting an exit event without really doing anything, growing a company, and having it go public. In short, they are turning this into not only a risk-free venture, but a venture that has already paid them millions. On top of that, more fine print: a 10% - 20% bonus! Wow, what a nice return!
Once again,
this appears to be just a bunch of filthy rich people taking advantage of uneducated investors to get free, indefinite 0% interest loans, while also enjoying an exit event without doing much of nothing
... just like most equity financing schemes done on these platforms.
IMO, I'd avoid it.
I'm willing to bet with 90% confidence that any investors in this are subjecting themselves to a "best case scenario" of a return of capital (ROC) ... yes, the Interest Free Loan for years
while the preferred shareholders make out like bandits.
Folks, in my opinion you'd better off taking that $500 and putting it into Bitcoin, or your own business and/or side hustle.