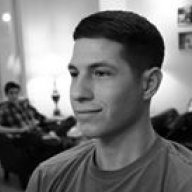 Contributor
Read Fastlane!
Summit Attendee
Speedway Pass
User Power
Value/Post Ratio
194%
Oct 25, 2014
35
68
Hey Fastlaners,

I've been doing some deep reflection lately.

Why don't I have the level of success that I thought I would have by now?
How is it that others have build businesses in the same areas I tried and failed?
What really separates the wealthy entrepreneurs from the people struggle their entire lives?

And the answer, at least for me, keeps coming back to COMMITMENT.

I want to start this little progress thread with a little story to give context to my situation, and so future Fastlaners may be able to pick out some useful nuggets from my mistakes.

See, after reading MJ's book I dove in head first. Dropped out of college because I knew it wasn't for me. Got a sales job, learned all I could to get good, and started leading teams. Plucked up the courage (and possibly stupidity) to leave the corporate world when a layoff happened with no business or backup plan, but a feeling that if I didn't I might be stuck forever.

But then my progress stalled out.

First, it was a half-hearted attempt at freelance copywriting. Then I tried starting a residential cleaning company. Hit some roadblocks with marketing and couldn't get customers. So I quit. (But for something "better" -- really!)

To start an Amazon FBA biz. Spent ages and tons of money on samples, info products, all that jazz. But never launched a product. (Because I really had to get in on this new thing NOW)

You can probably guess how it went when I tried starting a digital marketing agency. Yeah, basically zero progress. But boy, was I onto something when I started!

Seriously, WTF dude?!

Now sure, I've learned lots during my "failures" that can't even really be called that because they never got off the ground. But when I take an objective look at where I'm at, I could be in a much MUCH better spot if I had just stuck to one of these lanes and KEPT GOING.

There are dozens of millionaires that started cleaning businesses around when I did. There are probably thousands of people that stuck with their Amazon FBA businesses and many are selling theirs now for 7- and 8-figure exits. Others have crushed it in digital marketing agencies.

Which leads us to my current situation. I've been a bright-shiny-opportunity seeker for the past three years. And only I am to blame for my lack of progress.

All because I didn't EXECUTE.

So all that ends now. I need to go for a "single" and get a win under my belt in the game of business. This progress thread will chronicle my starting a residential cleaning company. Why? Because it's really not all that hard and I know just about anyone can do it.

The target is to launch in 30 days and get my first customer in 60 days. I'll be happy with this business when I get it to $4k/mo in profit that I can count on as a semi-passive income stream enough to cover living expenses. And we'll see where things go from there.

I'll probably be updating weekly during the first month, so feel free to ride along and textually berate me if you don't see an update.

Oh and to make sure I get things done, I've put a good chunk of money on the line at Stickk.com. Great tool for anyone who has commitment or accountability issues they want to solve.

This level of public (and monetary) accountability gives me some hesitation, but I know I need it if I ever want to make the progress I'm looking for.

LET'S GO.