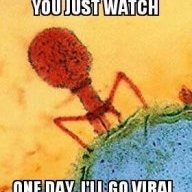 Contributor
Read Fastlane!
Read Unscripted!
So I've broken my promise to myself to delay the start of my entrepreneurial journey to after 1) my semi-annual progress presentation at work (which is today) and 2) finishing my submission for a 5000€ science comm prize (money that would go into my business, deadline end of Feb.
I was listening to an audio book called "The 4-hour Startup" on side project start-ups in Germany.
And now I'm scared.
The audio book mentioned my contract type as a scientist in the public sector and I also checked it out separately and its true: I have to alert my boss before (!) I start a business.
This might sound like action-faking, but it's not, and yes I've read this thread: What Color Ferrari Should I Buy? (I Have Twenty Bucks)
GOLD - What Color Ferrari Should I Buy? (I Have Twenty Bucks)
Maybe in the US figuring this out is step 25 but in Germany it seems to be step 2 or 3). [emoji30]
(Step 1: decide on an idea. Step 2: soft-proof. Step 3: tell your boss.)
As I'm working as a passionate biomedical researcher at a highly competitive institute my boss would hate me coming to him to tell him about a side project. Around here, you can always work harder, and acc to him, you should. He can't outright do anything against it, but he could find a fake cause to fire me with 3 months notice. That's unlikely though. What's more likely is that announcing my side hustle will be harakiri on my career here. The big boss can be very subjective in judging your progress and he's influential enough to kill your career globally, if he sets his mind to it. Most likely though I'll suffer over the next 2 years while I'm working at this institute.
Also, the contract law stated that you are not allowed to earn more than in your job (I'll cross that bridge when I get to it) and that the employer's interests must not be violated or otherwise you can be terminated immediately. These interests include your full mental and physical performance. So the boss can basically just argue that you're tired at work because of your side hustle and immediately cut you off.
Has anyone had a similar situation and wouldn't mind sharing their strategies and advice?
What's it like in the US, are there no rules like these ones?
Any help and/or inspiration is appreciated.
PS: If it has to happen, and there's no way around it, this dumb law won't stop me from pursuing entrepreneurship. I just might have to change my strategy.