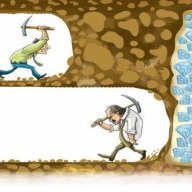 Never give up
FASTLANE INSIDER
EPIC CONTRIBUTOR
Read Fastlane!
Read Unscripted!
Speedway Pass
A question primarily for those who have amassed at least six figures in savings - do you have any personal rules to protect yourself from stupid decisions that will make you lose your wealth?
For example, here are a few basic rules I follow:
I don't gamble or invest in anything resembling it (including very high risk investments). I may possibly (maaaaybe) consider investing 5-10% of my net worth in riskier projects in the future (like angel investing) but otherwise I'd never invest any considerable amount of money in anything where it's very likely to lose your entire investment (even if the upside can be 10x).
I don't invest in companies/opportunities without a solid background. @MJ DeMarco talks about it in Unscripted (the apocalypse rule). I believe a lot of celebrities have lost a lot of money because they didn't follow this rule and invested in a Ponzi scheme.
I educate myself and calculate risks before investing in anything. And if I can't understand it or can't calculate risks, I don't invest in it. Even if it's super hot and everyone talks about it (like crypto).
I prioritize diversification over returns. So for example, I'd rather invest in three rental properties than one (I don't have any rental properties at the moment) to spread my risk over three locations. I do the same with P2P loans (secured by mortgage) where each loan is just a small percentage of the entire portfolio.
I prefer income investing over capital gains investing. That's primarily because income is usually predictable and I prefer monthly cashflow (and live off it) to some unrealized uncertain capital gains. That's why I'd rather invest in a boring dividend stock or REIT than a "hot" new technology stock.
I don't buy anything for status. That's actually because of my personality and not because I set it as a financial rule but it's still very important nonetheless. I'm very utilitarian and don't care about stuff that's primarily sold for personal image reasons (like expensive cars, designer clothes, jewelry, etc.). I think this is the most common reason why people lose their entire wealth, even if it's seven or eight figures (like pro athletes).
With some of these rules I'm probably more risk-averse than an average investor. But I'd rather earn less from my money than make a stupid decision. And if I want to make more money, instead of looking for a (dubious) 20% "passive" return from something high-risk, I'd rather just create a new income stream where my ROI will be 10-100x or higher.
What are your rules?