Hey Fastlaners,
In my quest to start an online business brokerage (going well so far, signed up 2 $150k+ sites in two months), I decided to build a business valuation calculator to serve as a lead generator eventually (going to cost ~$8k to develop).
If you have ever tried one of those "whats the value of my website?" calculators where you just put in your domain name, you'll notice they're pretty crappy. They only value a website based off of potential ad revenue from the traffic the site receives. So if you have a SaaS or digital product business, for example, and you only get 1,500 hits a month, but make $1,500 a month, it will probably tell you your site is worth a couple hundred bucks. There aren't very many good calculators out there so I decided to use my financial modeling skills to build something more complex that is based off of actual transaction data.
I took data from about one thousand online business that have been sold online across all the various brokerage firms, and used it to calculate average profit multiples that these sites sell for.
I put it into a Google Sheets file and would appreciate any feedback that anyone has!
https://docs.google.com/spreadsheets/d/1f751hUOm0LIsK4ooFOTaqDfF7Gl4OLCu0SMyj6gM_xk/edit?usp=sharing
- click this to access the calculator on google sheets!
Here are the main variables that I used: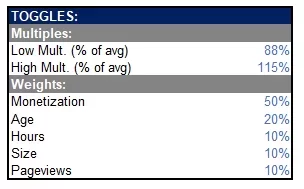 The model calculates an "average" valuation, along with a high and low valuation which are simply 88% and 115% of the average. I tilted it towards the high side by and extra 3% because I felt it would be more appetizing to show higher potential values, but let me know if you think otherwise on this.
As for the weights, these are the 5 variable inputs and the weightings that they have on the overall valuation. I sort of picked these at random so would be curious if anyone would adjust them differently. I know it will be tough to tell without being able to see how the values are actually calculated (but I can't give away my secret sauce
. As an FYI - the revenue input doesn't affect the output, but all the other inputs do. And Size is the total valuation for the website, thought being larger sites go for larger multiples (circular reference).
Anyways, would appreciate anyone giving me shot and letting me know what they think! It isn't perfect and still has some holes in it, but it should be 100x more realistic and accurate than the other calculators you can find online.