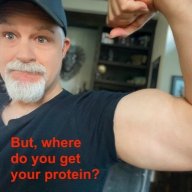 I followed the science; all I found was money.
Staff member
FASTLANE INSIDER
EPIC CONTRIBUTOR
Read Rat-Race Escape!
Read Fastlane!
Read Unscripted!
Summit Attendee
Speedway Pass
User Power
Value/Post Ratio
419%
Jul 23, 2007
35,857
150,222
True Story... (
@Chitown
)
A) Random guy steals my audio-book and posts it on YouTube.
B) My company files copyright complaint.
C) YouTube terminates content and user's channel.
D) The IP thief messages me and asks that I rescind my copyright complaint. He wants to continue stealing other people's IP, but gives me assurances that he'll no longer steal mine. Then throws in another argument of his... "I'm losing subscribers."
E) I respond by telling the guy that STEALING is not a business model. And I don't trust thieves.
The best part is F...
F) I close with a short and sweet profanity which I won't mention here.