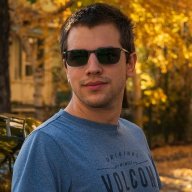 Go all in.
Read Fastlane!
Read Unscripted!
Speedway Pass
I feel the need to introducing myself again, since I'm now an
INSIDERS
.
If you have any question, I'll try to be as transparent as possible.
I'm Jeff. Jhean-François is actualy my first name (you could translate that to John-Francis), I'm 25 years old from Quebec, Canada.
I've been an avid, big time gamer for a long time in my life. Missed most high school parties because I would be gaming 80 hours per week. I still play video game 3-4 hours daily, although I'm far from the skill level I used to have. I'm 100% in the expert level with computers. I've been an IT Tech in businesses for about 5 years and a web developer for 3 years.
I am an analytical person. I think a lot in general and I analyze most situations. I do not believe in God, I believe in people. Miracles are either coming from random occurences or hard work.
That's also my weakness. I'm not blindly taking risks, I always assess the situation before acting. This means I need to be in control. I cannot control things I do not know about, which is my problem entrepreneur-wise. If I know what are the odds, what happens if I do X or Y, then I'm able to take a decision with more confidence. I used to have a superbike (2 years) and I never went 180mph (300km/h) even though it had the capability of hitting 200mph(330km/h), because the risk was just too much. The bike helped me bring more risky situations in my life though, which is something I liked.
I always read more on things I do not master, unless they are deemed useless for me. When people used to ask what words meant during lectures/dictations (?) in class, I would just write the word, there's no use for me to know what it means, I just need to know how to write it.
I need to realign my focus. I'm trying to make my girlfriend's business viable right now, while also trying to start a business on my own and working my slowlane job. She's into social media/online presence coaching (oriented towards SMB owners) and I love finding things to improve about her website and business in general.
There's a lot I could talk about, and a lot I left aside. If you want more details, please ask.
------------------------
My business idea right now (I'm not sure if I should just make another thread about it?):
Improvemystats.com
purchased domain name and hosting. Installed WordPress for the blog part (adding valuable content for viewers)
I started writing blog posts and wrote down notes for my coding structure towards the whole levelling system of the website.
I want to establish an online training/coaching hub for gamers. The final objective is to be a hub for multiple video games with esport potential (Fortnite being the first one), where players can seek coaching and replay reviews from better players.
At first, the base service will be free (it will always remain free), which is being able to upload your replay and have someone better than you review it and give you feedback.
Eventually, there will be several options to pay more to obtain access to a better coach (pro players and full-time streamers). People will be able to define their objective:
-Become a better player in public games.
-Become a better competitive player.
-Become an esport-level player.
Each type will have access to different coaches, with the better coach costing more.
You earn points for reviewing replays and giving feedback. Points are added if other people approve or vote for your feedback. The points system will give you access to charge for replays and sign up as a coach, to offer paid coaching (per hour). The platform would keep a percentage of the hourly rate and a percentage of the higher-level replay review flat fees.
People want to get better, people are always looking for tips online. A lot of gamers dream of meeting - even online - their esport idols, Improve My Stats would make this possible, for a fee.
The free service would ensure that everyone can get better without a dime, while people seeking to become serious competitive players could pay to access profesionnal gaming tips and reviews.
For Fortnite, the coaching would let the customer play with their coach in Playground mode (private match) and in Duo/Squad matches where the coach can teach and review the techniques live, with the player.