On day 18 I mentioned that I had been working on a website called "DogPedia", a website meant to give information about dog breeds. Well, I scrapped that project because I wanted to work on something much more ambitious.
It's called: Man's Best Friend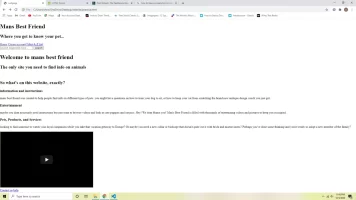 (Don't judge too soon, it looks like crap bc CSS hasn't been added to the code yet...)
Its not just about dogs anymore. it also features cats, birds, and other types of exotic pets.
Not only will it have an info content system about different pets, but it will also have:
a custom product design and retail service (will require a wholesaler)
a distribution of service catalog like cat sitting or dog training in the user's local area. (will require certified professionals)
While this program isn't my main idea, it will still allow me to get my feet wet and learn how to face some of the challenges that will come with being an entrepreneur. It will take me a few years but once I see this through to the very end, I will have acquired a skillset that opens endless possibilities for ideas. If one retail idea fails, then I can scan for market needs and know how to execute another.
This is gonna be good. Ill update when I've made significant progress. See you on the Fastlane …
Don't like ads? Remove them while supporting the forum. Subscribe.