Last August I launched
protoolsmarket.com
, an online tool & hardware store. In this post, I'll share my experience starting, growing, and operating it.
As of December 3, 2021, it has the following results:
Net sales: €246,811.88
Pre-tax profit (as of September 1, 2021): €24,775.01
Visitors: 119,215
Conversion rate: 1,64%
Main traffic source: Google Shopping Ads
Total orders: 2631
How much time do you spend on operating this store?​
This business takes up roughly 2 minutes of my time every weekday, while I create and send the shipping labels to our warehouse employees.
I spend a few hours accounting at the end of every quarter. I also have to process my returns/refunds now and then.
It earns enough to pay my bills living a cozy life while renting a 45m2 flat in the center of Budapest.
How and why did I start this store?​
Why?​
I needed the money, mostly. I was quite engaged with building it, but I wouldn't say it was a passion project. After a while, I got bored with it. Nowadays I'm focused on other endeavors (like sharing my wealth of knowledge of e-commerce!) while this store runs in the background.
How?​
There's a little more involved backstory here.
(In this article I will use "my partner's company", "my ex-company," "our company" interchangeably)
My ex-company which I co-founded with a family member (henceforth: partner) in 2015 is actually a much more successful e-commerce business.
Its net revenue was around 3 million euros in 2020 (this was a phenomenal year for online store businesses in general).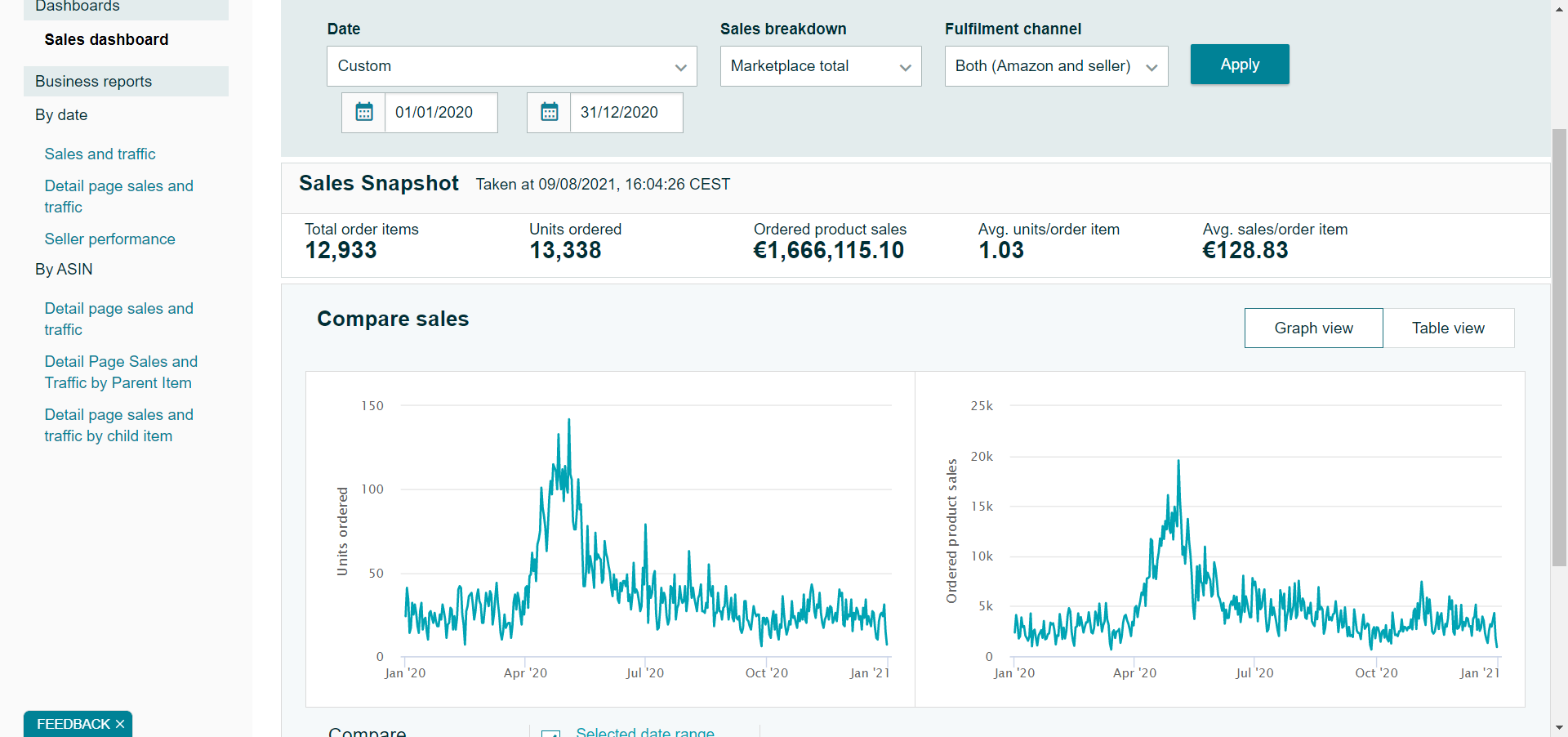 My partner's Amazon sales (2020).
I played a pivotal role in getting it off the ground in the first year or so, but we had irreconcilable differences with my partner, so I voluntarily quit after a year or so. I stayed involved with the business, but I wasn't involved with the day-to-day operation anymore.
Nowadays, this business relies (read: depends) on Amazon and other European marketplaces for its sales. This is not a good position to be in, for reasons I don't have to explain.
I wanted money and my ex-partner wanted diversification of risk (read: sales outside of Amazon), thus I volunteered to launch and grow our online presence via our own website.
I'd be his dropshipper, which means he'd get his wholesale margin and I had my retail margin.
Thus
protoolsmarket.com
was born.
We had an old, "failed" website with minimal sales (mostly from organic traffic).
I ran Google Shopping Ads for our products to gauge interest. The question was, "Is there life outside of Amazon"?
Luckily there was, and I managed to sell enough to validate the demand.
(This was in the Spring of 2020 when C0VlD-19 hit.)
I opted to start a new store instead of using our old store because 1.) It was easier to separate the results of my efforts 2.) The old store had a lot of integrations and I didn't want to ruin anything.
I spent the summer looking for technical solutions, like where to host the store, how to to integrate the products/stock with my partner's system, etc.
I settled with Prestashop as my e-commerce platform of choice (best for European stores that sell in multiple countries).
I spent the next 3 months working full-time on reaching profitability with my store.
My hard work paid off.
In November my store's net revenue was €24,442.81:
2020 November Net Sales (protoolsmarket.com)
I had similar results in December.
This resulted in about +3k of pre-tax profit. I was confident that I could make 35-50k euros a year if I continue working hard.
Sadly, it didn't happen.
Why? What happened?​
I started my store at the most volatile time period in recent history.
Irreconcilable differences with my partner still caused problems, albeit less than before. This sapped my motivation, but I managed.
The real problem was the never-seen-before increase in shipping costs and product prices
, which started just when I launched my store. This trend continues to our present day.
Container prices skyrocketed.
A 40-foot container that used to cost 2.500$ now costs 15.000-20.000$.
The Chinese factories started raising their prices too. Cost of goods sold (COGS) increased by 10-20% or more!
Recently, there's has been a shortage of power in China, and now the government is forcing factories to operate 15-20 days a month instead of 30. This creates even more delays.
This is on top of the ongoing supply chain crisis.
Even before the Evergreen blocked the Suez Canal, there were huge latencies with shipping times. What used to take 30-35 days to arrive now takes 45-60 days.
This meant I was out of stock way more often, which means lost sales.
I had to raise prices 4-5 times this year. Competitors raise their rates slower or sometimes not at all. This means lost sales.
So where's the store at now?​
I still manage 10-20k revenue a month with next to zero time investment. My Google Ads are managed by a friend (at a discounted rate). The warehouse is managed by the employees of my partner. Customer support is also managed by my partner's customer service employees.
I tapped into a well-developed business infrastructure and a portfolio of proven products (which I also contributed to). I had a unique opportunity here and I capitalized on it. Despite all the favorable conditions, it still required hard work. Hard work that I still live off of.
Were there moments when you almost gave up?​
Yes, of course!
After I started my store, it failed to attract much traffic or sales:
Yes, it got some visitors and sales, but look at that conversion rate. That wasn't profitable!
I was doing everything I could to bump that up, but as any store owner can tell you, it's not easy to double your conversion rate.
Luckily, I had a conversation with an experienced growth marketer friend of mine (who is working with a much more cutting-edge online store by the way).
One of the things he told me was the importance of social proof.
I "already knew this", and around September 20-25 I managed to import about 1000-1200 reviews from my partner "failed" store into my own.
This boosted my store's conversion rate from 0.79% to 0.99%. A bump from the utter shit conversion level to a less shit level.
What he did highlight to me was the fact that the reviews were quite outdated. Several years old reviews are less reassuring than fresh reviews.
So I went and "hacked" the date of the reviews and changed them to 2020.
Not the most ethical step, but I'll what choice did I have?
This, coupled with all the other now-forgotten work I did result in a much more pleasing sight:
I continued with improving the site and added in some marketing tricks and I finally arrived into acceptable results territory by November:
Black Friday certainly helped.
In a hindsight, it seems I was destined to succeed, but this couldn't be further from the truth!
On a day-to-day basis, it seemed like nothing was happening. It's like weight loss - small changes are imperceptible. I was constantly stressing about what can I do to make the store profitable.
The lesson here is simple: don't do it alone and ask for help - especially from specialists!
How did you market your site and get sales?​
The vast majority of my sales come from Google Ads (Google Shopping). They simply work at the not stellar, but profitable enough performance of 1.5-1.8% conversion rate.
I captured what I could capture profitable via Google Ads. My partner offers the same products via Amazon/Marketplaces in the same Google Shopping results. It's a miracle I make this much!
I do offer my products a wee bit cheaper, to incentivize sales from my tiny store, to be fair. But my store can't compete with the brand awareness and trust Amazon has. Hence my partner makes 10x times the sales I do.
I also uploaded my products to Facebook Marketplace.
Manually, one by one.
It generated a few thousand euros worth of sales with a higher margin (no ad costs!), but it was a lot more manual work, customers were brain dead, they haggled and always wanted to call me (I don't offer phone support).
I wanted to rank for my keywords in Google and enjoy some sweet organic traffic, but it required more resources than I invested in it.
How did you handle customer support?​
Initially, I did everything myself in Zohodesk. I mimicked/copied what I could from my partner's cutting-edge customer support system.
In the end, I concluded that it's better to insert my store's customer service into his system, to free up my time/lessen stress.
It's a marvelous customer support system really (Amazon forced my partner to come with perfect solutions), which is the result of years of iteration.
It takes next to zero amount of my time now (I only do the refunds/monetary parts myself and some special situations). It's operated by 2 contractor agents and warehouse employees.
It's controlled by this massive Blueprint, which is a massive process automation system:
It takes some time to set up, but once it's done, it's done. This is what makes agents able to process tickets efficiently, without our input.
This is how my partner handles the customer service of a 3 million euro e-commerce business.
How do you handle shipping?​
I use my partner's infrastructure. He runs the company as a Fulfilled by Merchant (FBM) operation. This means he doesn't use third-party services like Amazon FBA (we tried, but it's not a good fit for most of his products).
This is also the reason why 2020 was such a good year for my partner - while every competitor ran out of stock and was forbidden to replenish, his huge warehouse was full of stock and ready to fulfill the orders without interruption.
(I was part of the evolution of our fulfillment operations by the way - our first warehouse was a dusty warehouse in a bad neighborhood and we went to the first meeting on bikes. Imagine the impression we made. Then as we grew, we switched warehouses, invested a lot into equipment, in a forklift and tall shelves to store pallets.)
Right my orders go into a shipping app called ShippyPro. I pay 79 euros a month, which may sound like a lot, but at least it's a reliable solution that works. Try working with logistic companies and their direct integrations and you'll see.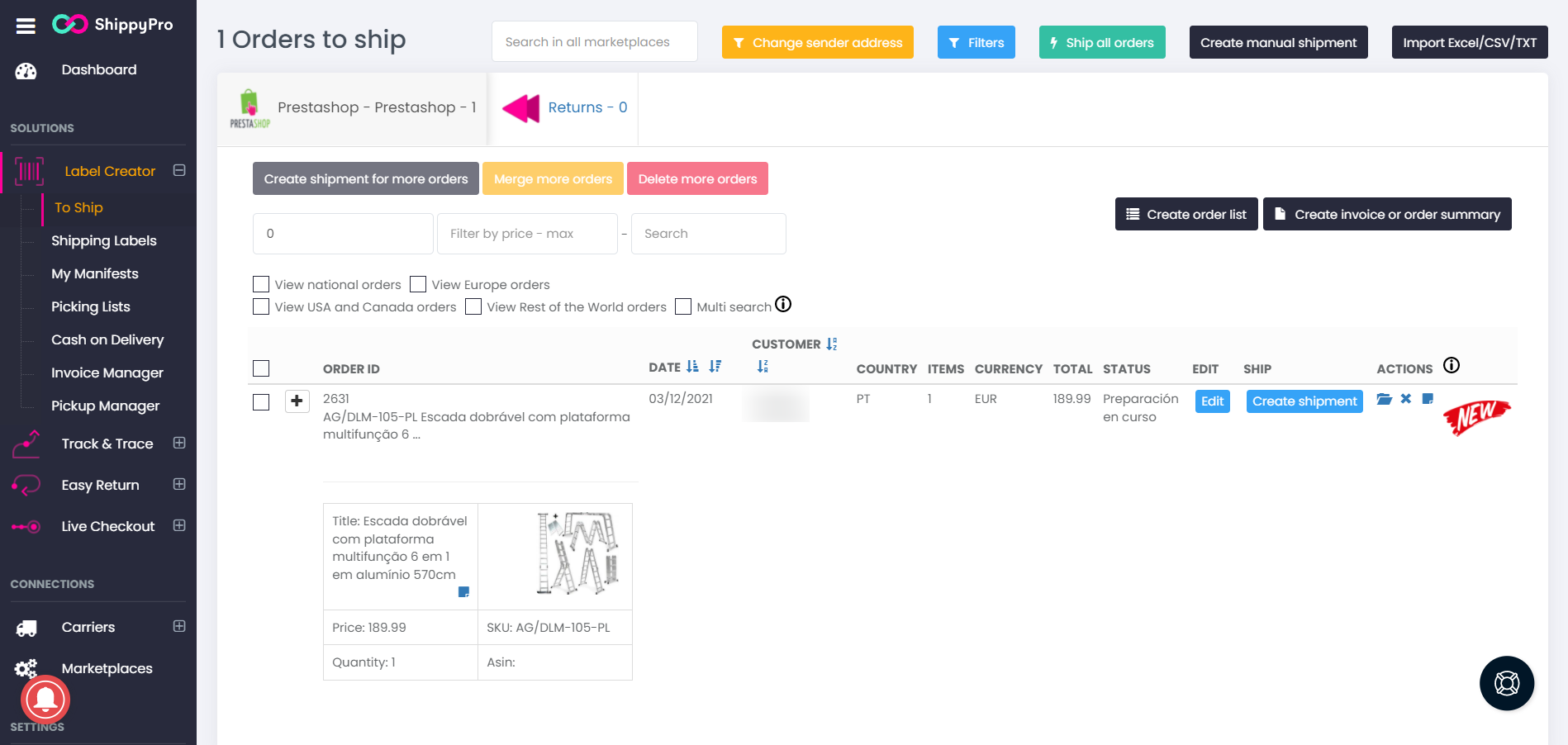 It was easy to integrate with my store and carriers (Correos Express and GLS - one for domestic, the other for international shipping).
It takes 2 minutes to create the labels and the manifest. I send it to the warehouse employees via Skype, and I'm done for the day.
What's next for you?​
I'm committed to sharing everything I know about e-commerce for the next 90 days (not just on this forum). I anticipate that my wealth of knowledge will be useful to enough people to attract opportunities that I can capitalize on.
I hope this post was enough to give you an interesting and brief peek into the world of e-commerce. If you'd like to see more e-commerce content or want to ask a direct question from me, follow me on
Twitter
.