Bronze Contributor
Read Fastlane!
Speedway Pass
Because they are owned by EIG.
You see, when it comes to hosting a website, there are two fundamental rules you need to know:
Rule #1: Don't use any hosting service owned by EIG
,
Rule #2: Never forget rule #1.
EIG is a shady company
that cares only about your money, not you. But, since they pay handsome commissions for their affiliates, their products (especially Hostgator and Bluehost) are recommended all over the web. ( Even respected people like Pat Flynn are
recommending them
.
)
But, here is how an honest
blogger
describes them:
To reduce their costs, EIG programmers pack tons of websites into one server. Sometimes the server just can't handle so many websites so it crashes. The programmers get it back up, but the underlying problem, too many websites, is still there. Of course, the server crashes again somewhere down the road, and the cycle continues.
Here is how a Fastlaner described his experience on another thread:
Customer service knows almost nothing about how to run a website. They must outsource and read from scripts.
They up-charge everything. They AUTO RENEW domains even if you set do not renew.
If you try to edit your A name, they make it more complicated then it needs to be.
and cloudfare doesn't like them!

If you need to upload files with FTP, they close your connection. Why? I don't know could not get a straight answer.
My panel came with SSH enabled : Read and write access enabled for a random account created. can you say SECURITY RISK!?
After I contacted them about it they did not respond to the ticket, deleted the ticket and removed the SSH.

By removed SSH I mean disabled SSH on my account.
Their SMTP wont send emails.

They do not support backups. Not that you should use your host as a backup solution, but the fact they have ZERO RESTORE FUNCTION for all of their users is insanity.

Nope. Not recommended.
Here is the
full list
of 80 hosting services (Read: Crap) owned by them :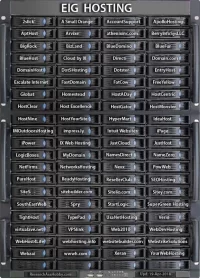 Please avoid them at all costs. Use something else from the poll or replies.
My personal recommendation would be Siteground or if you can afford it use Pagely. Pagely uses AWS for hosting your website which is also used by Amazon (They own it) and Netflix. So, your websites will be never down.
P.S.
If you have any horror stories using EIG products or have any other recommendations for hosting feel free to post. It may help others.
Last edited: