Acquisition entrepreneurship has picked up interest, both economically and here at the forum. To best honest, if I was a newbie entrepreneur and just getting started, I'd probably be more interested in acquiring a small online business, versus trying to start something new. Our most popular thread on the subject, with someone actually succeeding at it, is here:
From 0 to $240,000 per year profit in 18 months I've been a follower of this forum for about a year now, had read the Millionaire Fastlane book, and finally have decided to tell my story. About a year and a half ago, I found myself unemployed and with near zero savings, two house payments, and...
www.thefastlaneforum.com
That said, if this is a space that intrigues you, here are 4 books you should read before buying a business. The first book is currently a
giveaway raffle for INSIDERS.
Buy then Build, by Walker Deibel
https://www.amazon.com/dp/1544501137/?tag=tff-amazonparser-20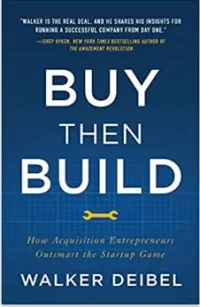 Entrepreneurs have a problem: startups. Almost all startups either fail or never truly reach a sustainable size. Despite the popularity of entrepreneurship, we haven't engineered a better way to start...until now. What if you could skip the startup phase and generate profitable revenue on day one? In Buy Then Build, acquisition entrepreneur Walker Deibel shows you how to begin with a sustainable, profitable company and grow from there.

You'll learn how to: buy an existing company rather than starting from scratch; use ownership as a path to financial independence; spend a fraction of the time raising capital; find great brokers, generate your own "deal flow", and see new listings early; uncover the best opportunities and biggest risks of any company; navigate the acquisition process; become a successful acquisition entrepreneur; and more.

Buy Then Build is your guide to outsmart the startup game, live the entrepreneurial lifestyle, and reap the financial rewards of ownership now.
Here's the Deal, by Joel Ankney
https://www.amazon.com/gp/product/1539850811/?tag=tff-amazonparser-20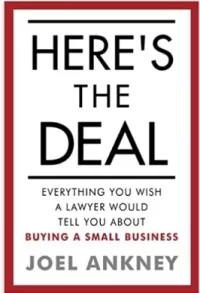 A seasoned deal lawyer demystifies the process of buying a small business. Learn about what happens before, during and after the closing of the deal. Learn what typical purchase agreement provisions mean. Educating yourself about the process, what to expect, and how to resolve common issues can help reduce stress, save time, and save on legal fees.
How to Buy a Business without Being Had, by Jack Gibson
https://www.amazon.com/dp/1426936184/?tag=tff-amazonparser-20
Before you start wading through the buying process, it's imperative to learn about common pitfalls that often trip up unwary buyers and how to determine a fair value for a business that attracts your interest, even businesses that at first glance appear to have little or no reported earnings. Mr. Gibson, who has been helping buyers and sellers for more than thirty years, helps you do your due diligence. Make it a point to gain all the knowledge you can as you think about one of the most important financial decisions of your life. Learn what constitute the elements of value, why adjustments to financial statements are important and how to determine the accuracy of financial statements. Gibson also describes how to prepare a purchase contract that will protect your interests and ensure a smooth closing. You'll read case studies that help you discover if profits are overstated or, maybe, understated as in the case of "hidden" assets. And you'll read comments from experienced business owners who wish they had known more about how to avoid the common mistakes many buyers make. The book also contains a useful study and discussion guide.
A Practical Guide to Buying a Business, by Robert Chalfin
https://www.amazon.com/dp/B08NF32FBY/?tag=tff-amazonparser-20
A Practical Guide to Buying a Business provides a comprehensive overview of the acquisition process—from locating a business to the final contract. The information is presented sequentially with sample forms, checklists, and agreements. Some of the topics that are covered in the book include:•Why businesses are acquired and sold•Locating a target business •Sources to consulting when searching for a business•Creating the selling memo •Using professionals to assist with the process•Due diligence- items to request along with a sample due diligence checklist•Discussion topics and questions for a productive meeting with the seller•The letter of intent, indication of interest, and term sheet— what should be included and when to use these documents.•Financial analysis and metrics—items to review when evaluating a business•Valuation, including some key factors to consider•Raising funds- sources, alternatives, and strategies.•The contract, including a brief discussion of the key components•Post-closing, including brief suggestions on operating the business following closing This book is invaluable to anyone who is interested in buying—or selling—a business along with their attorneys, CPAs, and advisors. The book includes advice and information useful for entrepreneurs seeking to build their businesses. It helps buyers and sellers to understand the process, know what to look for, avoid common pitfalls, and consummate a deal with benefits to both parties.
Any resources you'd like to share that helped you in your process? I'm currently reading Buy then Build.