Contributor
Read Millionaire Fastlane
I've Read UNSCRIPTED
Everyone laughed at me here when I started reading 20 pages of a book a day. They told me it was useless and that it will never amount to anything. And not only that, they told me that my failure at that habit will be a reflection on who I am as a person.
After I flipped them the middle finger, I went on my own way - as Scott Peck would say "I took the road less traveled." You guys get it, you0re on the same path.
Two years later, I read my 90th book by reading 20 pages a day.
Now, it was time to show to the world what I had done.
So I sat down and created a massive blog post, reviewing every single book I've read (business, motivation, education, finance)
The format follows:
1.TITLE
Amazon link
My Book notes
Rating: X
/10
Date of reading:
Description:
Impression:
Quotes:
If you click on the book notes, you will get the extensive review of the book you want (there are 90 of them).
How I Read 90 Books In The Past 2 Years By Reading 20 Pages A Day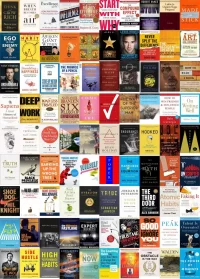 How I Read 90 Books In The Past 2 Years By Reading 20 Pages A Day
It took me three months to finish this piece so have a look at it, you will find many useful books
Cheers,
-Bruno