Bronze Contributor
Speedway Pass
Feb 28, 2018
104
104
134
53
I run a couple of AV rental businesses. Having to be there myself or pay people to be there for pickups & returns is a hassle so I've been looking into some type of automated locker system. There are commercial products similar to the Amazon parcel lockers but they're not big enough & far heavier duty than what I need not to mention thousands of dollars or even tens of thousands. My pickup/return areas are fairly secure & the equipment is only stored for a few hours on the day of hire/return & has video cameras.
I thought I'd share my first prototype. This is just a standard workshop/stationery cabinet. It was $265. The lock is one you can get from eBay or Ali for about $15. It's called a "cabinet lock" or a "cam lock". The beauty of it is that it's designed to screw straight into a standard key lock. (I had to mod mine slightly because it was sideways). It's digital but not "smart" so I just have to manually reset the code. This is enough to test whether the concept work with Homo Sapiens. If so, I'll invest in a heavy duty smart lock. With the Igloo Home locks a one-time code can be generated from from my booking system via Zapier - nice!
Anyway hope this is helpful. I'll update as I go. Happy to have any feedback too.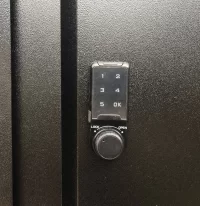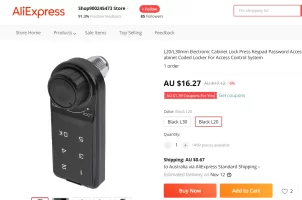 Smarter Shopping, Better Living! Aliexpress.com
www.aliexpress.com
Don't like ads? Remove them while supporting the forum. Subscribe.