Administrator
Staff member
EPIC CONTRIBUTOR
FASTLANE INSIDER
Read Millionaire Fastlane
I've Read UNSCRIPTED
Summit Attendee
Speedway Pass
Jul 23, 2007
30,231
109,044
3,751
Some of you might have noticed that I switched out the main form panel that shows the latest activity of the forum.
While this one is a bit more simplistic, it has more customization features.
Here's how to best use it so you can customize your forum experience.
First, if you want to ignore any thread in the list, hover over the thread and click the Ignore Icon.
To bookmark any thread, click the Bookmark Icon.
To report, same thing.
See below.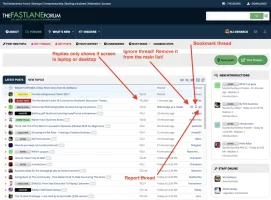 Next, you can customize how many threads you want in the summary. Click the GEAR ICON (settings) and select the # of threads you want displayed.
You can also set to ignore certain forums... for example, "The Mens Room" or "Off Topic" conversations.
See below...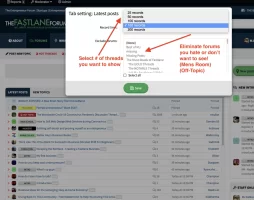 And finally, if you don't want to see this panel at all, you can set your preferences to eliminate it entirely.
Click "Preferences" in your Profile, and select "Hide Statistics Widget"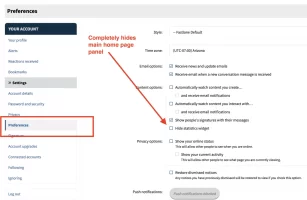 Some other notes...
-- The number of THREAD REPLIES looks to only appear on LAPTOP and DESKTOP configs, narrow screen widths (phone/tablets) will block this.
-- The panel auto-refreshes and "dings" any new updates of threads. If you don't want to hear the "ding" -- you can mute it by pressing the mute.
-- The developer of this seems to be pretty active, so hopefully the presentation will improve as time moves ahead.
-- Certain threads/links can be pinned, this might be offered as an advertising option in the future, not sure yet as I haven't quite figured out how to administrate it yet.
Don't like ads? Remove them while supporting the forum. Subscribe.