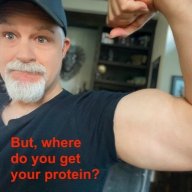 I followed the science; all I found was money.
Staff member
FASTLANE INSIDER
EPIC CONTRIBUTOR
Read Rat-Race Escape!
Read Fastlane!
Read Unscripted!
Summit Attendee
Speedway Pass
Jul 23, 2007
35,646
142,234
Any reg-ex experts on the board? For the life of me, I can never figure out regular expressions. I'm having a URL redirect problem (for an Htaccess file) and was hoping to find a solution. I've spent a bunch of time on several websites trying to figure out the solution.
Reg-exs have always been like Japanese to me. I tried using this tool to no avail:
Free Online Regular Expression Tester - FreeFormatter.com
Basically I'm looking to solve a problem a described below...
301 Redirect
Code:
OLD PAGE
-------
https://www.thefastlaneforum.com/general-business-discussion/35110-golden-nuggets-tips-processes-how-tos.html

TO THIS NEW PAGE
-------
https://www.thefastlaneforum.com/community/threads/golden-nuggets-tips-processes-how-tos.35110/

Optimally, any link with "general-business-discussion" should redirect to "community/threads/[thread-title].[thread-number]

Looking for a "catch all" for the above, not just the one link redirected.
I know for a reg-ex expert this is easy-peezy like asking someone to translate English to Japanese. Probably is, I know no Japanese and after a few hours of trying to learn I'm no closer to the solution. I picked a bad day to have some caffeine.
Another tool that I found helpful but still haven't got to a solution...
Regex101 - online regex editor and debugger