Platinum Contributor
Read Millionaire Fastlane
I've Read UNSCRIPTED
Speedway Pass
May 10, 2015
2,319
4,145
1,022
This is one of my absolute favorite channels. There was this amazing channel that posted entire college-level courses online for free. They became so popular that PBS bought them, and now it's owned by PBS. Ever since PBS bought them, they've been putting out even more amazing content.
The courses are so much fun and are loaded with humor.
I totally vouch for them, and their courses are amazing. Some of the courses they offer: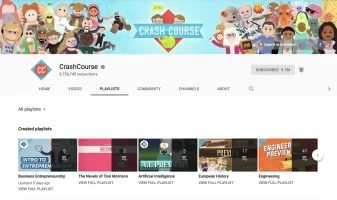 Full Playlist:
Business Entrepreneurship
All Courses:
CrashCourse
Thoughts? Are there any other ones besides the Entrepreneurship one you want to check out?
Don't like ads? Remove them while supporting the forum. Subscribe.
Last edited: