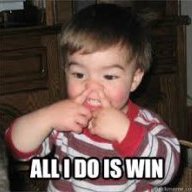 Contributor
Read Fastlane!
Read Unscripted!
Speedway Pass
User Power
Value/Post Ratio
172%
Dec 27, 2017
46
79
53
I am new to this forum and happy to be here. I've already gained knowledge from several of you and hopefully made some decent contributions so far as well. For those of you who have been here a while and have been working on your Fastlane Mindsets, I am really interested in what do you see as the one or two things you improved or learned that really impacted you or your business positively in some measurable way in 2017. For example:
1. Did you learn something new that resulted in increase sales or decreased costs?
2. Were you able to change a behavior that resulted in better confidence or peace of mind?
3. Did you pick up a new skill, coding for example, so you could build something new?

I probably could have said this a little more succinctly by asking -- please share a nugget of wisdom from your 2017 experiences. Happy New Year everyone and here's to the best year of our lives in 2018 (yes, I'm an optimist)!