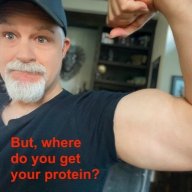 I followed the science; all I found was money.
Staff member
FASTLANE INSIDER
EPIC CONTRIBUTOR
Read Rat-Race Escape!
Read Fastlane!
Read Unscripted!
Summit Attendee
Speedway Pass
User Power
Value/Post Ratio
441%
Jul 23, 2007
37,450
165,184
After reading BioPhase's story and his comment...
biophase said:

There is a point where you determine that "time" is more important than "money." My neighbors can never answer this. They just tell me that you just know. One day the reality of limited time on earth becomes very real. Then time>money.
I just had to go dig up my old post on RD about
valuation of time
.... it is posted below.
YOU WERE BORN RICH!! How are you spending it?
You were born rich. In fact, everyone around you was born rich. Now you say,
"how could that be, I've got $500 in savings and I owe a fortune!"
I've got good news for you and no, it has nothing to do with saving money on your car insurance.
The moment you materialized into this world, you were born filthy rich with an asset that is god-given to everyone. This asset is given to everyone equally at birth, yet, its quantity is unknown and ever expiring. In financial terms, this asset is a depleting asset, much like an oil well.
Story continued here:
http://www.thefastlanetomillions.com/fastlane/articles/mindset-motivation/you-were-born-rich