Sweeping Shadows From Dreams
FASTLANE INSIDER
EPIC CONTRIBUTOR
Read Fastlane!
Read Unscripted!
Speedway Pass
Jan 14, 2013
4,396
25,893
THIS IS A 5-10 MINUTE READ. THERE'S A TL;DR VERSION AT THE
BOTTOM IF YOU NEED TO COME BACK LATER. >)
(If you aren't interested in high-ticket sales, you can skip this one completely.)
You know there's 2 ways to reach your money targets:
1) Impact on an order of scale (100,000 ebook sales at $3.99)
2) Impact on an order of magnitude (1 ultra super nuke sold to Trump for a billiongazillion dollars)
I'd guess a majority of forum users go for #1. Import something. Write something. Sell it at a low price. Hope it impacts a lot of people. Nothing wrong with this.
But a few of you want to sell services, or big ticket items, or something specialized.
Less people need it. So you have to charge a higher price per customer to reach your goals. This post isn't to tell you what to charge. Just to let you know
it's okay to charge higher prices when your product is worth it.
So I wanted to share a few recent high-ticket buying experiences to give you a look at these things from a customer perspective.
PURCHASE #1

The first big buy this year was a private recording studio. Funny thing is, I wasn't looking to set up a private studio at all (or spend $9,000). It started when I wanted to clean up my audio recordings. I remembered seeing a sound absorbtion box on Amazon that fits over the microphone to cut down outside sound.
Here's an example (around $40).
Well, that reminded me of how my uncle added foam padding to the walls of his basement to soundproof it so he could play guitar in peace. I thought that might be a better option, so I searched Google for soundproofing ideas. That's when I came across WhisperRoom.
I watched a few videos demonstrating the noise difference in loud environments and considered our baby coming in a few months. I felt the real pain of my situation and was hooked. But a tinyass box wouldn't be enough. I'd need a quiet place. A place where I could go and work and chill and think.
So I looked over the different models and got quotes from multiple companies. All started around $3,000 + shipping. But I didn't want to feel claustrophobic. I wanted it to double as an office, so I opted for the biggest model that would fit my room 6" x 8". Then added upsells for ambient lighting and airflow systems for an extra $1k or so.
KEY TAKEAWAYS
1. There was no hard sell.
In fact, here's an email they sent:
2. They proved they could solve my problem better than anyone else
.
None of the other places could give me what I wanted, how I wanted it, for a price I was willing to pay.
3. I justified the purchase in terms of ROI not cost.
>> I needed a quiet space to think and write
>> It will help me make more money with better recordings
>> I can rent it out later
>> Resell value is good if I ever get rid of it
4. I paid with business money, not grocery money.
It wasn't out of my pocket. It was an investment in the business by the business and for that reason I was totally okay with it.
5. I was happy to pay for upsells to make the experience better.
I didn't have to buy color strobing LEDs or ventilation. But I knew they'd make the whole thing more awesome.

PURCHASE #2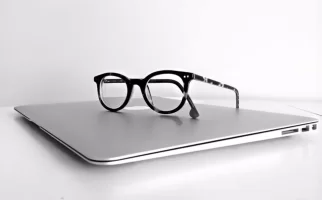 The other big purchase I made this year was web design and development. This is something I've always done on my own. My websites turn out okay. They're good enough. But I wanted to deliver an over-the-top experience for my users.
So I started looking for brand designers to help out. Luckily, a source I trust just had her website overhauled and happened to send out an email mentioning who did it. Perfect!
Up until this point I expected to pay $2k to $3k for brand and web development. But when I looked over the referral's website, their prices were
MUCH
higher. Brand design alone was around $5k. Custom web design was closer to $10,000.
Some of you might think that's insane. But I assure you, it's not. In fact, after seeing their website, and prices, I felt
MORE
confident than before. Not only did they talk the talk.
They walked the walk.
So I didn't run away crying. I booked a call.
On that call we went over everything for brand design. They answered my questions. Made me feel good. And when I asked for the time frame .. they told me they were booked until September (I didn't verify this).
Despite the wait, I wanted to work with them REALLY bad. In fact, at one point I was worried I might not be their ideal client and they might turn me away. That didn't happen. Instead, they sent an invoice for 50% due today for something I wouldn't receive for several months.

I paid instantly.
That was just for brand design. But I needed web development too. And I worried over the next week that if I waited, development would get pushed back to November or December. So I scheduled another call, we hashed out details, and I dropped another 50% deposit for that.
KEY TAKEAWAYS

1. There was no negotiation.
I didn't question their prices. I could have, but didn't care to. When people have something of value and they put a price on it, I'm willing to pay that price (plus it's business money).
Also, I don't like to be a penny pincher. That's for sidewalkers. I like to be the entrepreneur who doesn't have to pinch pennies. Someone who's easy to work with and gives others a reason to invest back in me, because they know I'm invested in them.
2. The referral was EXTREMELY important in how willing I was to pay higher prices.
I had a set price in mind and wasn't planning to go over. But when I saw who the referral was from, it was a no-brainer. Not only do I trust this person, but her website turned out awesome.

3. The company didn't just tell me what they could do, they proved it every step of the way.
Their case studies proved it. Their website proved it. And when I got on a call, they had answers for EVERYTHING. They knew their business inside and out and made me feel comfortable in every way. I wasn't working with a couple of random individuals. It was a small team of professionals running a "tight ship" agency. Plus they felt like friends.

4. Being niche specialized was EXTREMELY EXTREMELY important.
Though I found these people through referral, their specialization played a huge role. Several trustworthy friends sent referrals. But none were specialists in my target area. So, as good as they may have been, I didn't choose them because they had no proof they could solve my problem. The company I went with is specialized. Niched down. I knew they were
"the one"
as soon as I entered their site.
5. It doesn't feel bad paying high prices. It feels REALLY GOOD paying for value.
This is probably the most important reason high prices are okay if you offer something of value. Even though I spent way more than intended .. I didn't have buyer's remorse. Instead I felt REALLY good about the decision.
Not only am I paying for serious quality and investing in my business .. it's also proof of how far I've come. Where spending $1,000 once felt like the end of the world .. now it feels like adding another brick to the foundation of my empire. Every dollar invested is a Solider in my army.
CONCLUSION
If you have something valuable,
it's okay to charge high prices.
You do NOT have to feel bad about it. Because you are NOT selling to everyone. You ONLY sell to people who you create value for and who want and need what you have. For those people, there's no cringing at your rates. They buy because they can, because it supports their worldview, and because it makes sense for them.
tl;dr
Charging high prices doesn't make you an a**hole if what you sell creates value for the other person.
Your job
is to find those people, deliver that value, and let your business thrive.
P.S.
I won't share the web design company until my site is finished.
Last edited: