Contributor
FASTLANE INSIDER
Speedway Pass
User Power
Value/Post Ratio
133%
Nov 9, 2021
15
20
Hi everyone, I hope you're having a good start to the week! As a quick introduction, I've been a lurker on the forum on and off, but decided to take the plunge after reading
@Andy Black
's posts - thanks for the encouragement
I'm happy to share my background, but I thought as a first post that I would start by sharing something that I thought might be helpful for everyone here.
Sometimes being "efficient" causes you to leave tasks and projects unfinished, and it's important to be deliberate about it.
I always stop early in projects and tasks.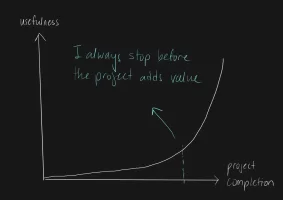 But that's because progress feels great - with the law of diminishing returns, the first bit of a project tends to feel the best.
All together in a gif:
As someone that values being "efficient", being guided by "making progress" is natural and sounds like a good way of operating.
However, without being deliberate about taking things to completion, I think that mentality has led me to systematic non-completion of projects.
In addition to sharing the problem, here's something simple and actionable that has helped me fix it.
Before I start today's work, I look at what I did 7 days ago, and reflect on:
Whether the work was helpful (sometimes it ended up being just busywork, that didn't move the needle aka action faking)
Can I make it more useful? (Can I finish the project or push it more to completion, stay monogamous, rather than jumping to the next shiny thing? Good isn't good enough)
Can I make today's work useful? (Is it an action fake, or on the critical path?)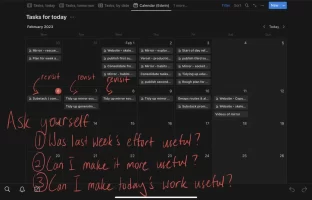 That's been working so far but I'm continuing to iterate on the process. I'll definitely update if I find a better version, but I thought for now that it's a quick win to review tasks from 7 days ago, given that many task managers allow you to look at a calendar view.
Do let me know if that makes sense, and I'd be more than happy to share the other blind spots I've uncovered (that upon fixing have really sharpened my execution).
As a highly driven personality with a background in business (strategy consultant) and technical (startup operator + self-taught programmer) I've been frustrated with what I thought was a mismatch between my inputs and outputs, and have had several epiphanies from doing self-reflection.
Best regards,
Edwin
PS - long overdue but a massive thank you to MJ - if anyone found value in what I've shared above, it's very much from building off the thinking and concepts
@MJ DeMarco
's has shared through his books.
PPS - it's night time where I'm based but I'll definitely respond to any questions and comments when I'm up!