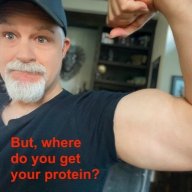 I followed the science; all I found was money.
Staff member
FASTLANE INSIDER
EPIC CONTRIBUTOR
Read Rat-Race Escape!
Read Fastlane!
Read Unscripted!
Summit Attendee
Speedway Pass
Jul 23, 2007
35,311
140,064
Deterioration of the RD Forums

I left the RD forums approximately 2 years ago as I found myself engaging in conversations with people who simply "didn't get it" - some had no intention on learning and were there to stir-the-pot.

I for one am partly to blame for not having the fortitude to resist the temptations of the conversations; politics, and government issues to name a few.

I recently returned to the RD forums to retrieve a few dozen posts I wrote years back in research for my own book. I found the place worse off than I left and later learned much of the good people were also gone, or just plain hiding.

Its too bad that the RD corporation doesn't believe in the power of the internet and the power of a community.

Thats too bad because I do.
Last edited: