Administrator
Staff member
EPIC CONTRIBUTOR
FASTLANE INSIDER
Read Millionaire Fastlane
I've Read UNSCRIPTED
Summit Attendee
Speedway Pass
Jul 23, 2007
31,174
116,182
3,751
What's your focus?
Making pennies and changing your weekend?
Or making millions and changing your life?
Over the years I've seen a lot of threads on the forum which ask generalized investment questions.
Things such as...
"I've got $1000, how do I invest it for a good return?"
"Just saved $5K, where should I put it?"
Here, just recently:
What would you do with $1,000?
Seeking advice on my life plan
While I advocate financial literacy and basic economic knowledge as an
ongoing
goal, I don't advocate it as a FOCUS.
Why?
Because learning how to turn $1,000 into $1,100 in 1 year is a ridiculous waste of time and focus.
$100 is an above average 10% return.
Instead you should be focused on turning
$1,000
into a
BUSINESS
which turns into
MILLIONS
.
THEN, you can focus on "How do I invest the $3.5M I just got from selling my company?" into a worthwhile focus that legitimately yields
meaningful returns
.
Here's an example in my own life...
Here it is: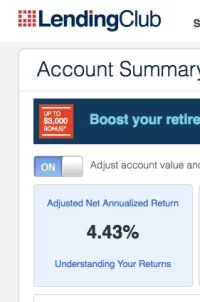 Yup, that's the dismal return in my LENDING TREE account. (Which I have now neglected for 6 months.)
Go ahead, laugh. Queue up the jokes.
Now here's the entire point I'm trying to make: When I see this sad return in my Lending Tree account, I have (2) choices --
Focus on maximizing the returns and get the yield up to something better than average, say 11, 12 or 13%
Ignore it and just discount the venue as an investment option.
I know I can do
1
if I just put forth the time, research, and effort into the medium.
Assuming I've invested just $10K into the venue what do you think I will do?
The answer is 2.
And this thread is why.
Why on earth would I spend countless hours trying to raise my yield in this account when its meaningful returns amounts to a few hundred dollars?
On a $10,000 investment, the difference between 4.5% and 11% is a paltry $650 bucks.
I'm not going to spend HOURS researching and dally-whacking at something when the outcome reflects a $650 return on my time -- assuming it goes well!
And since I'm not willing to risk more principle into the venue, my choice is a no-brainer.
In essence, this is
a millionaire mindset where your focus isn't churning pennies, but meaningful dollars.
On the flip side, the answer
could be
1
if I was willing to invest $1M into the medium. Then the difference between 4.5% and 11% comes out to an extra $5,400 per month -- a meaningful dollar amount.
Unfortunately, because LC and P2P lending is untested and still relatively new (sorry, don't trust 'em!) the answer will remain 2.
In the end,
where are you focusing your effort?
Into knowledge and activities that will upgrade your life forever?
Or is your focus on the things that can upgrade your weekend temporarily?
Focus on meaningful things that can be meaningful to your life.
- MJ
For more information on HOW TO INVEST $X,000, visit here:
GOLD - The final solution to all "I have some money what do I do?" threads.
Don't like ads? Remove them while supporting the forum. Subscribe.