So I was reading Inc. Magazine about an hour ago and how the co-owner of youtube (Elon Musk) is starting Tesla Motors, which is a high performance car manufacturer that builds electronic cars. As everyone knows, this country is in an oil state of emergency so anything that moves without gasoline is going to be gold.
Basically the Tesla Roadster is a replica of a Lotus Elise but slightly less good looking and with an electric engine. The car doesn't currently have a price, but the sport sedan that will accompany it is going to cost about $70,000 so I think the Roadster will be more than $100,000. Whereas the Elise that it takes after is less fuel effecient but faster and has the "Lotus" nameplate that many people would rather have than "Tesla," which is unknown. Furthermore, the Elise is $42,990 and gets 38 highway miles per gallon.
Lotus Elise

Tesla Roadster
So as I was reading the article, my brain juices started to generate and I began to think that there is definitely a better avenue that Elon Musk could have taken to begin this start-up company called Tesla - so off I went.
I would keep the electric engine concept but tweak the product line and marketing end of this company. I would not build the chassis in house but instead outsource the car bodies and chassis from another car builder. I would choose a supplier that I could buy trademark rights off of and also supply me and body/chassis that fit the electric engines that my company would install in them.
I would look into cars like the Corvette, Ford GT, Dodge Viper, Honda S2000 or BMW Z4 M. As far as buying the rights of the product, I wouldn't buy the rights to use the terms "Dodge," but instead "Viper." So the automobile's model would be using an existing car's name for marketing purposes, but the brand would be my own company's brand.
I think most people would rather purchase a $100,000 car that is reputable, known, fuel effecient and fast than just fast, fuel effecient and with an unknown tag.
Product Expansion


Tesla has stated that it plans on expanding to the sports sedan market to compete with the BMW 5 Series and then ultimately an entry level sedan that is a budget car starting around $30,000.
I don't really agree with this move. After I bought the trademark rights and contracted bodies and chassis from a car like the Corvette or Viper, and started putting my company on the map as a high performance electric car maker - it would be time to start producing my own cars in house.
My first in house built product would be in a market that is growing and will probably explode in the coming years: the muscle car market. Ford brought back the old Mustang look and Dodge is bringing back the Challenger in '09. Chevy is putting that older first generation look on the new Camaro and I think we can plan on seeing more "reborn" muscle cars in the future.
Dodge Challenger





Chevy Camaro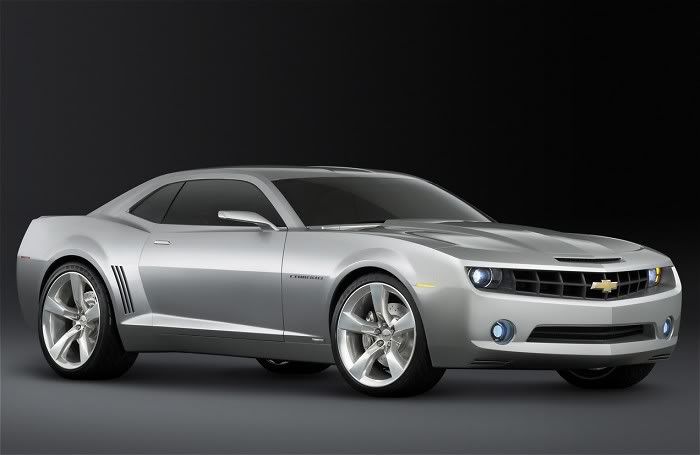 The problem that these muscle cars face is fuel effeciency. The 2007 Ford Mustang gets 17 city miles per gallon. I couldn't find information on fuel consumption on the Camaro or Challenger since they aren't in production yet.
My muscle car concept would create an automobile almost identical to the cars built in the '60s and '70s but with more modern edges, a better working suspension and of course, an electric engine. I would create the body and chassis out of certain materials to make them lighter in order to ease the pressure (weight) on the electric engine.
As far as marketing the product, my company could do something previously done and that would be to license a product name that was once used.

Plymouth 'Cuda
Chevy Nova


The Chevy Nova, Plymouth 'Cuda, Roadrunner and Duster are all muscles cars from the '60s and '70s that aren't in production anymore. So not only would it be easier for my company to buy the nameplate from one of the 'Big Three,' but the company could actually use the dimensions and specs from the car that was constructed 35 years ago to design this new electric powered mucle car.
My goal would be to construct an All-American, fuel effecient, electric muscle car that are as similar as the ones built in the '60s and '70s yet still have a modern feel.
Finally, the third model to be built would be one that is very much needed. Tesla plans on building a basic sedan in 2012 thats starts around $30,000. I think that's good, but I think an entry level electric sedan is needed much more than a sports sedan or even a high performance electric car like the roadster. I think that the middle and lower class are going to feel the oil crisis much harder than the person who is buying a $100,000 sports car. With that said, I think a car that resembles a Toyota Camry or Honda Civic has a huge market. I think this market needs an electric engine that can last longer with fewer charge ups needed instead of a powerful engine like the other two concepts.
I REALLY wish I could be in Elon Musk's shoes but I don't have the capital or resources to even start an electric car project. I'm trying to get my ebook about auto racing on the web so I can start rolling in some type of profit and then I'm going to build a start-up but I'm not sure what it is going to be.
Don't like ads? Remove them while supporting the forum. Subscribe.