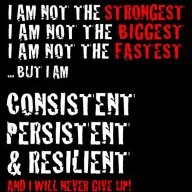 F the BS
Read Fastlane!
Read Unscripted!
I recently read a thread about habits where the person who posted asks what habit changed your life, so I thought it would be a good idea to post this topic on attributes/behaviors.

What single attribute/trait has made the greatest impact on your life (personally and/or professionally)?

As a follow up question, or to give you more inspiration for the question above, what one behavior would you want your children to acquire and instill within their core philosophy of life as they reach adulthood?

For me, I believe persistency has been my greatest attribute.

It doesn't matter what adversity I've faced throughout my life (there have definitely been a handful of bumps in the road). I've always possessed a drive and determination to pick up the pieces and keep moving forward with full steam.

This has paid off for me both personally and professionally, and has allowed me to learn, improve and become that much better than I ever was prior.

The consistency of being persistent, keeping your head up and enduring and simply being a survivor is in my opinion one of the greatest attributes that one could ever possess. I'd definitely look to instill that level of tenacity within my children one day!

Excited to hear everyone else's input!