Help people. Get paid. Help more people.
Staff member
FASTLANE INSIDER
EPIC CONTRIBUTOR
Read Fastlane!
Speedway Pass
User Power
Value/Post Ratio
368%
May 20, 2014
16,229
59,660
Using LinkedIn to get Clients
I watched this video over the weekend and thought I'd revisit LinkedIn.
A more important take-away is how methodical Cody is at signing up new clients - something I should do for sure.
So I thought I'd start a discussion on how we're using LinkedIn as a marketing tool.
Last week I logged in for the first time this year and accepted about 150 connection requests. Just doing that meant I got a load of profile views and a few PMs.
As an AdWords freelancer I've landed some 6 figure contracts.
As an IT Contractor I've probably made even more over the years.
I've been on LinkedIn for years, and here's the very simple strategy I've implemented (stumbled upon).
1) Create a good profile
Look legit.
Make it obvious what you do.
Make it obvious who you do it for as well (this is on my to-do list).
Know what people will search for on LinkedIn (recruiters especially if you're looking for a job or contract).
Optimise your profile for those keywords.
Bear in mind that your profile also acts as your online CV or business card.
People who are referred to you or who you speak to will go check it out.
I'm still working on my profile but I think it's fairly obvious what I do right?
2) Grow your network
I've got work from LinkedIn purely by sending connection requests.
I have a profile people want to connect with, and one that makes it obvious what I do.
When people connect with you, they often check out your profile, and some strike up some good conversations. At the very least, they now know they're connected to a guy who does XYZ (which is why it's important to make your profile focused).
Spend 5 minutes each morning clicking the Connect buttons:
3) Inbound?
I've only dabbled at posting articles on LinkedIn. It seems so spammy I'm not that interested tbh.
4) Outbound?
I've never used LinkedIn for outbound, but here's the beauty of having a large number of connections in Ireland: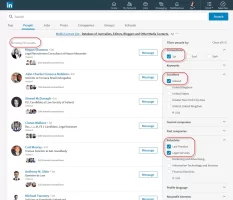 So what's working and not working with LinkedIn for you guys?

Further reading:
www.thefastlaneforum.com/community/threads/500-linkedin-connections-in-30-days.67735
Last edited by a moderator: