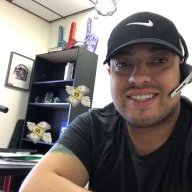 Contributor
Read Fastlane!
Read Unscripted!
It doesn't matter what mirror you look in. You will see the same reflection. You will be the same person until you change the person inside.
You've probably seen my name and wondered if it was real. My name is Daniel Rojas but picked up the name Danny Reds growing up. Growing up I had a good childhood. But I was different from my friends. I was raised in the Inner City of Denver. My grandparents raised me and with no dad or mom around full time was tough. My grandfather was a janitor full time and my grandmother was a cook. My grandfather would pick up side jobs for home repairs, paint, tile, drywall and pretty much anything he can do to make some extra cash. He Definitely taught me how to hustle and work my a$$ off.
Growing up I was always looking for mentors or anyone i can gather flourishing information from. I would spend a lot of time with my gramps AKA dad since he was the father figure in my life. I would go with him to the hardware stores, grocery stores, the local bars and I would love it. This would allow me to network and talk to old men that shared some amazing stories.
13 years ago i was an anomaly, a guy that barely got through high school and no real skills. I Landed my first real job Selling tax relief. I had no clue what i was selling but i knew it had the ability to provide me with a good living as long as i worked my face off. This job allowed me to work on my sales skills, business skills, and have a good understand about business structures.
Five years ago I launched my own tax relief firm because i knew with enough passion, hustle and the willingness to work my face off for myself i can build a business. I'm not wealthy yet but i'm in the correct lane. I've been studying
@MJ DeMarco
for the past year and with his concepts i see endless opportunities for anyone with enough patience, hustle and BIG DREAMS can make it. I should know, because that's all i have to work with.