Bronze Contributor
Speedway Pass
Hi people,
I have a nagging suspicion that my website should be doing much better than it is but I don't know how to find out:
(1) How well it should be doing
(2) What the problems are (if any)
The result is that I don't know what to work on.
Here are some possible things:
-Search term targeting
-Meta description under the results
-Landing page usability
-Landing page style
-Sales copy
-Offers
-Testimonials (social proof)
-Product demos(proof of process)
-Guarantees
-Site is currently a .com but in Australia it should be a .com.au not sure if that's affecting results or not.
The reason for my suspicion is that my business is based in a city of 4 million people. My site comes up #1 for highy relevant search terms like "PA System Hire Sydney" or "Wireless Microphone Hire" etc yet my turnover from new customers is only perhaps $50K a year. I'm sure the market for the type of events we do would be in the order of several hundred million. I don't have recent stats but in the past the #1 in the Google search results gets an impressive 40% of the traffic. I know that doesn't mean 40% of the market by a long shot because it only applies to the search terms where that company is #1 which is relatively few out of all search terms but still I feel it should be more significant. Another reason I'm suspicious is that my competitors which are ranked below me are much bigger although I suspect they rely of paid search of which I don't do any. Here's the search results: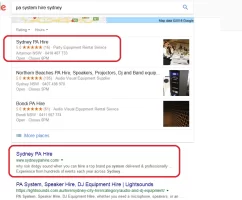 Once a customer makes an enquiry my conversion rate is 80% so I'm sure the problem isn't lead conversion.
According to Analytics my CTR is 2.5% giving me 277 clicks a month. That doesn't seem disastrous. I only get about 10 new customers a month though which is only 3.6% conversion. I would have expected more.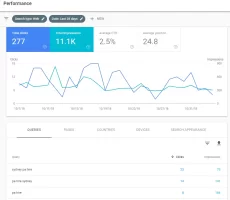 I'd love some feedback if there's any SEM experts. The site is
www.sydneypahire.com
Thanks Lee