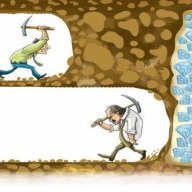 Never give up
FASTLANE INSIDER
EPIC CONTRIBUTOR
Read Fastlane!
Read Unscripted!
Speedway Pass
User Power
Value/Post Ratio
459%
May 1, 2011
6,916
31,757
I've recently decided to educate myself more about economy, money, investing, and related issues. To say this topic is complicated would be a great understatement.
However, I've discovered a great book by Peter D. Schiff and Andrew J. Schiff -
How an Economy Grows and Why It Crashes
. It's inspired by their father Irwin Schiff's comic book
How an Economy Grows and Why It Doesn't
and explains core economic principles using a fun story that starts with three guys living on subsistence level on a deserted island that steps by step transforms into a full-blown economy.
Explaining the economic principles along with the story makes it much, much easier to understand what creates, drives, harms, and ultimately destroys an economy. What I've learned from this book goes beyond mere economic principles, though - it perfectly supports the Fastlane approach.
Here are the top five lessons about entrepreneurship I learned from the book:
1. The Aim of Economy Is to Maximize Productivity
One of the main drivers of economy is specialization. Specialization increases production. A guy talented at, say, manufacturing canoes, can make canoes more quickly, which makes their cost drop, which means that his customers can work less to afford his products, which in turn raises living standards for everyone because they can produce or save more. When you focus on things that you can make more efficiently than others you maximize your productivity and help make the economy grow.
I struggle a lot with delegation and this lesson helped me realize how crucial it is not to obsess about trying to know it all as it goes against the basic principles of economy and dramatically lowers my productivity. I recently wanted to expand my business by offering a different type of a product. In the end, I realized I wouldn't produce it efficiently because it simply wasn't my specialty. If I had asked myself this question before considering this idea, I wouldn't have wasted time I could have spent doing what I'm good at.
This video is a perfect illustration of how incredibly awesome and important specialization is in the economy (the guy spent $1500 and six months of his life to produce a sandwich that costs a few bucks):
View: https://www.youtube.com/watch?v=URvWSsAgtJE
That's why it's so wrong to approach entrepreneurship as a vehicle to satisfy your own needs. Obviously, you probably want to build wealth for your own selfish reasons, but capitalism forces you to raise the living standards of others by providing something they need or want in the most efficient way you can (and note that it doesn't mean it has to be your passion - you simply need to be good at it). It's not about what
you
want, it's about what
others
find valuable. If you forget about it, your lack of results will quickly remind you of this often forgotten fact.
2. Freedom Involves Risk
You need to under-consume and sacrifice something in order to be able to consume more in the future. Simple stuff, yet most of us forget that creating capital (making something wanted by people) is always risky, and taking on this risk (which, by the way, should be prudent and not be a gamble) is an inherent part of an entrepreneur's life. If you aren't ready for this risk, you work for somebody else who is (and exchange "security" for a lower reward).
3. Loans Made to Unsuccessful Businesses Waste Society's Savings and Diminish Productivity
Another obvious rule, yet look at people investing in Snapchat and other worthless companies that burn through millions without contributing any value. Such ventures waste the supply of savings and weaken the overall economy.
In addition to that, loans to consumers that don't improve productive capacity are also a burden (which means pretty much all kinds of consumer debt Sidewalkers love to take on).
Practical application: if you want to launch a business, you better make sure it produces actual real-world value. "Make money" schemes provide no value and are a misallocation of your savings and other resources.
By the way, here I'd like to note that when you retire early and become a passive investor you're still very valuable to the economy because by investing, you (hopefully) take on risk on projects that will increase productivity. This is actually much more valuable than spending money on expensive cars or houses because spending alone doesn't build wealth.
4. Economy Grows With Production, Not Consumption
Nothing can be consumed until it's produced, so it's the production that adds value and makes the economy grow. It's savings that allow the expansion of production. The politicians lie (oh really?) when they say that consumption drives growth. Wealth is created with savings, not with spending.
If you consume more than you produce, you're actively contributing to the contraction of the economy and worsen living standards for everyone else.
5. The Value of Labor Is Always Multiplied by the Use of Capital
You can dig a bigger hole with a bulldozer than with a shovel, even if you work just as hard with both. Consequently, it isn't about mere hard work - it's about using the best capital possible to magnify the value of your labor. This makes you create more capital more quickly which makes you wealthier which in turn makes other people wealthier as well.
Today I read an article posing that
capitalism is about working less to earn more
. The author says that in 1800 you had to work, on average, one hour to obtain ten minutes of artificial light. Today, this same hour allows you to buy 300 days of light. Imagine how hard it would be to build wealth if you had to work one hour just to have ten minutes of artificial light.
We prosper thanks to people who made the best use of capital and used the best tools to grow it further. Today it's our turn to step up to the plate. The rewards are more than worth it.
3 Notable Quotes:
1. "Look guys, why borrow now and go hungry to repay the loan, when you can just sacrifice now, go hungry for one day, build your own net, save up for the future, and then rest up whenever you want?"
2. "Savings can mean the difference between the life and death of society"
3. "In our desire to make the pain of economic contraction go away, we have forgotten that freedom involves risk. If government is obligated to cure all hardships, then no one is really free in the first place. Take away the freedom to fail and you have obliterated the freedom to succeed."