Legendary Contributor
EPIC CONTRIBUTOR
FASTLANE INSIDER
Read Millionaire Fastlane
I've Read UNSCRIPTED
Summit Attendee
Speedway Pass
Jan 23, 2011
6,076
26,424
4,554
No need to apologize...

Though it does make me sad that we live in a world where correcting bad information leads to a sarcastic response (implying that the correcter did something wrong) as opposed to a simple, "Thanks for the correction!" (simply taking responsibility for the mistake).

That's my preferred response:

I may need to create an LLC this year and am a bit confused on the "Pass Through" feature of S-Corp and generic LLC. if the profits pass through to you as an individual, won't the tax rate be equal to self employment tax rate? so besides the Limited Liability benefits of owning an LLC, there...

www.thefastlaneforum.com

I am currently working with a broker who is purchasing a loan for me through countrywide. on the mortgage broker business contract the broker left the brokerage fee blank. Further down he stated that the brokerage will recieve a sum for "the business" in a range of 0% to 4% of the...

www.thefastlaneforum.com

It looks like they'll soon be in search of better Ferrari stunt drivers: Video - Breaking News Videos from CNN.com I'm sure there are some on this forum who would love this job... :)

www.thefastlaneforum.com

Perhaps that's why there's so much fake news out there...
I'm sorry I am not as perfect as you
@JScott
.
Before I submit the post this time let me "fact check" my response... Oh the "fact checker" says I am not sorry. Dang! Tough luck.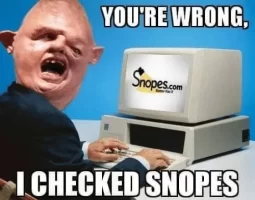 Don't like ads? Remove them while supporting the forum. Subscribe.