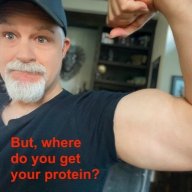 I followed the science; all I found was money.
Staff member
FASTLANE INSIDER
EPIC CONTRIBUTOR
Read Rat-Race Escape!
Read Fastlane!
Read Unscripted!
Summit Attendee
Speedway Pass
User Power
Value/Post Ratio
418%
Jul 23, 2007
35,886
150,159
Here's a great example of problem-solving entrepreneurship with a distinct value skew and a simple, clearly defined value proposition, a value proposition to save someone's life, perhaps your own.
This company was brought to my attention by a reader and I immediately bought one.
LifeVac is a non-powered, non-invasive, airway clearance device developed for resuscitating a victim with an airway obstruction when current choking protocols have been followed without success. Choking first aid that every home should have.
lifevac.net
Further, I had an issue with my order which was promptly resolved.
For me, I tend to not chew my food well and have had several scares. Buying this was a no-brainer.
On the
CENTS
scale, this type of business ranks highly, although it is not perfect.
Strengths: NEED, SCALE (every human on the planet) and TIME.
Weaknesses: ENTRY as this product is subject to knock-offs, although reproducing it likely isn't super simple like downloading Wordpress and wham, you're in business.
Review my
CENTS
rating here
Grade My Business Idea: Rate your business idea and discover its potential for massive marketplace success. Is your business idea worth pursuing? Or should it be forgotten? Based on the
CENTS
Framework authored by entrepreneur and best selling author, MJ DeMarco.
www.grademybusinessidea.com
Posting this here for both education and perhaps for your personal use.
What can you learn from an enterprise like this?
How easy would it be for you to sell when your core value prop is saving lives?
Would you be passionate about this business, even if you had no medical background?