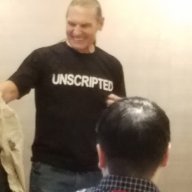 Platinum Contributor
Read Fastlane!
Read Unscripted!
Summit Attendee
Speedway Pass
User Power
Value/Post Ratio
702%
Dec 25, 2012
706
4,958
I've been selling online since 2000.
And to be honest with you, I am NOT tech oriented. In fact, I am probably one of the
worst cases
, knowledge wise, of online entrepreneurs on this forum. I am extremely slow to incorporate new ideas, advertising, or 'upgrades' to my business.
Sometimes too slow.
It took me 18 months to finally switch my websites from one major hosting company to a better one even though those that did the research here on TFLF pointed out overwhelmingly that it was a far better choice. I finally looked into it and pulled the trigger.
I finally switched.
I must be extremely hardheaded.
But, I have done a few things fairly well. One being, to create repeat customers on my websites.
And a repeat customer to me, is worth FAR MORE than a new customer, dollar for dollar.
Why? Because a repeat customer
sells for you
, providing they are a happy customer.
Word of mouth is the BEST advertising ROI hands down.
All these customers are into social media, more than I could ever be. I could throw money at the wall hoping it would stick and one word out of their mouth might bring me 10X customers without spending a dime.
So, my
goal
has always been to ENHANCE the experience as much as possible for my existing customers thus creating a desire to share the good experience with their friends.
I am in the business to ENHANCE satisfaction in my customers, so that they will share with others.

I have been
privileged
to have customers that continue to order from me for well over a decade. I regard each and every customer to have a LTV of $1000 lifetime.
So, if each customer is
potentially
worth that amount, one would have to ask, what is the best way to retain a customer to repeat over and over?
IDENTIFICATION.
You have to create a BOND with the customer. You have to identify with them and they to you.
Make it personal. How?
For me it is writing a personal note to each customer that orders from me.

I don't do this for orders on the marketplaces, ie Amazon, Ebay etc, but only from my websites.
Those are not my customers. They are shoppers. I fulfill an order but they care less from who they order it from. I don't waste my time.
But, my packers/shippers keep my websites' orders separate so that I can sign a thank you or whatever I feel like saying. If your selling dog supplies, 'from one dog lover to another' -supplements, 'stay healthy' whatever, sign your name or ' handle'.
I use a handle because I have a brand with the same name, but one could use CEO, or President and thank them personally.
I have heard back via email and word of mouth that some of these customers have kept the packing slip just for the fact of the personal touch and have reordered from me instead of the competition just for the fact that I identify with them.
We all want to think we are special. Give them the personal touch and they will share it with others.
It may take a few moments, but the returns are worth it.
Over the long term, it can be worth millions.
Last edited: