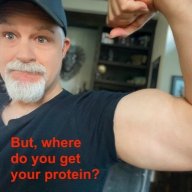 I followed the science; all I found was money.
Staff member
FASTLANE INSIDER
EPIC CONTRIBUTOR
Read Rat-Race Escape!
Read Fastlane!
Read Unscripted!
Summit Attendee
Speedway Pass
Jul 23, 2007
35,649
142,270
Via the
Unscripted
Text Network
You can't fit square pegs into round holes when it comes to business.
When there are systemic issues in your industry that prevent scale and growth, it is futile to fight the reality.
I mention this because over the weekend I met with a local entrepreneur who has a successful business that services my local community.
He wanted to scale.
He wanted to grow.
And as a customer of this entrepreneur's service, I know he had the mental and physical fortitude to make big things happen.
The problem was, his successful business is seasonal and only operates 7 months out of the year. Think something like snow removal or hanging XMAS lights.
This makes scale and "going Fastlane" a huge problem.
If you have a big company with 20 trucks and 40 employees, but have to lay off all your employees in the "off season," your problem is
systemic
. Your great employees won't likely come back as they need to work, and need a steady paycheck. For this entrepreneur, hiring and training 40 new employees every spring is not feasible, cost effective, nor reasonable.
It also isn't reasonable to pay employees during the 5 months of "off season" as it prices you out of the market.
This poses a systemic problem if the goal is Fastlane growth and scale, and systemic problems are like asking pigs to fly.
The answer to systemic problems isn't something that can be easily fixed, even using first-principle thinking.
The answer, unfortunately and yes, harsh -- is you're likely in the wrong business if you're working for a Fastlane outcome.
TAKEAWAY: You can't meet your goals if your industry or business model is not conducive to those goals in terms of scale.
That said, the solution this entrepreneur arrived at was NOT to abandon his business or industry.
While his business is seasonal,
he was earning about $50K for 5-6 months of work
, which gave him a ton of free time in the off season.
He's been documenting his local success in various employee training manuals, and even developing his own management software for people within the industry.
His "Fastlane strategy" is to sell his successful B2B training guides, CRM management, and other industry tools that he can license via subscription. As for the software that he intends to sell, he is architecting it in a "no code" solution.
While his local business might not "go Fastlane," his domain knowledge might translate to a Fastlane.
Remember, not everyone wants to make millions and for many folks, a business that earns $50K a year and is operational only half of the year would be a dream come true.
If this subscription aspect of the business doesn't work, he still has a great business that makes $50K a year and gives him a boatload of time to experiment in other Fastlane opportunities.
This "experience" is not Slowlane, or a waste of time.
It is what creates multi-millionaires.
TAKEAWAY: REMEMBER: Nothing is Slowlane if your intent is to go Fastlane.
So moving forward, the path the entrepreneur has chosen to explore is to go B2B and sell subscriptions, customer management solutions, and training options. This is in supplementation to his existing local business.
As I mentioned, this entrepreneur's business is LOCAL and SEASONAL. Again, some good examples (while not his business as these are much simpler) are a holiday lights hanging business or a snow removal business.
With the new strategy going forward, he can position himself to serve a much
larger market, and market that is likely to be hungrier.
When we're strategizing our business, it is important to look at the markets you're serving, and to make sure those markets can help us achieve our personal goals.
THE $10K DAY THOUGHT EXPERIMENT
"I want to make $100K a month"
If that is your goal, look at your industry and the market you're serving. Some questions to ask…
I call it the $10K a Day Thought Experiment
1) How large is the market that you can effectively serve? How many total customers are there that need your offer? 5,000 people? Or 50,000,000?
2) How easy is it to reach your market? Are there mediums to get in front of prospects? Or is it impossible to hit a target with your offer?
3) If all goes spectacularly well and you have a $10K day, what would that day look like? How many employees would you need? How about supply and manufacturing? Would you need a warehouse? Office?
4) If a $10K day is impossible, what would make it possible? Are there systemic problems? Or have you exposed your industry as deficient to meet your goals?
If you're looking to have your business ideas graded, there is a
CENTS
based rating system I launched some years ago. In that rating system, "access to markets" is a huge weight.
Grade My Business Idea: Rate your business idea and discover its potential for massive marketplace success. Is your business idea worth pursuing? Or should it be forgotten? Based on the
CENTS
Framework authored by entrepreneur and best selling author, MJ DeMarco.
grademybusinessidea.com
Bottomline?
Business is hard. As such, your excellent execution needs to be rewarded with outcomes that match your long-term goals. If you're in an industry that cannot merge with those goals, you should use that experience
only as a means to an end
.
Hanging XMAS lights as a side-hustle is great, but if the goal is $100K/mo, the industry/model is deficient.
What does the $10K day in profits look like? Or is that simply impossible?
Last edited: