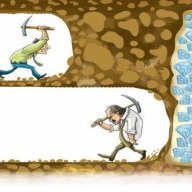 Never give up
FASTLANE INSIDER
EPIC CONTRIBUTOR
Read Fastlane!
Read Unscripted!
Speedway Pass
Over 3 weeks ago I started following an
extensive stretching routine
that I do daily. So far I've spent over 20 hours stretching, with the longest session taking almost two hours.
Joe Hippenstel, the creator of the program, says that it may take up to 100 hours (or more) to reach all the standards in range of motion (that all kids can reach naturally until modern living starts messing them up). Once you reach that, for maintenance you only need to do a 20-30-minute daily dynamic routine. But it's a lot of uncomfortable work to get there before you erase all the blockages from years of stored tension.
David Goggins needed a few hundred hours or more to loosen up his extremely tight body. The crazy lunatic of course did some mind-blowing stuff like stretching for 12 hours a day, every day, for weeks (as far as I know, he's now doing about 1-2 hours a day).
Why stretch? Because if you're stiff, you'll inevitably have pain and suffer from injuries. Tight muscles can't absorb shock as easily. When they're shortened, you can't do things you should be easily able to do (like squat). Being stiff also affects how you feel in general since you're quite literally storing tension in your body. All of this has a huge impact on overall performance and life quality.
Joe Hippensteel says that flexibility is one of the keys to longevity and feeling youthful. Yet, most of us only contract our muscles, over and over again in the same movements, and that eventually leads to problems that can turn into nightmarish chronic pain.
It's crazy to see how fast you can progress in some stretches and how various exercises influence your flexibility (for example, on days that I have MMA, my knees and quads are much tighter).
This is me on day 0 in one stretch and on day 22 (look at my spine and head in both):
It's also fascinating to experience when one side is much tighter than the other. In one stretch at first I thought I was doing something wrong because on one side it was brutally hard but on another it was very easy. Turns out one of my hips is much tighter than the other.
People are focusing way too much on strength and too little on flexibility. Then imbalances happen and you get injured.
Happy to answer any questions about my experience so far. Out of respect for Joe I can't share all the stretches (you can buy his courses or have a consultation with him).
I'm also interested in your experience with stretching and overall flexibility and mobility.
(thread started on request from
@Antifragile
and
@Actionfaker
)
Last edited: