Still searching for that high-profit skill to learn in 2022?
As we settle into the new year, the road to profit becomes more challenging. Whatever business you start faces an uphill battle against a global pandemic, lockdowns, political turmoil, tax increases, inflation, and constantly tightening regulations. You're also faced with anti-capitalist sentiment among other insidious ideologies. Add that on top of the "50% of businesses fail" stat and it's enough to make you wonder,
how can I possibly achieve success now?
Whatever business you start, obstacles exist. There is no "best" business idea for modern times, but there is still an extremely profitable, highly rewarding skill that you can learn to leverage to reach escape velocity even as a beginner with no experience, no degree, and no portfolio.
Web design can launch you into success right now.
Starting a business is tough. That's always been true. Web design isn't
less hard
than other businesses, but it does offer several advantages. For instance, you can start fast without experience. Once you learn the basics, you can land profitable jobs that not only pay the bills but give you the freedom to scale your services or to fund any other venture you want.
The reason it works so well is because even when the world is shifting around you, the underlying principles of web design success remain the same. As a result, those who develop strong foundations not only succeed, but they tend to succeed even MORE over time.
How can web design possibly still be profitable?
There are
hundreds of millions
of businesses worldwide. Many don't have a website. Millions more have terribly dated websites that don't work, are hard to navigate, and cost the business money instead of generating clients or sales. Sometimes a bad website can cost millions in customers per day.
These companies aren't limited to small startups operated by individuals. Many are enormous corporations, manufacturers, distributors, importers and exporters, and successful businesses doing millions to hundreds of millions per month.
These businesses are run by people who have too little time to build their own website and enough capital that investing $10,000 or more to have someone else do it is just another expense and a tax write-off that can potentially increase sales and profits by millions in a matter of days.
When the return on investment (ROI) is potentially hundreds of thousands to millions, then spending $5,000 to $20,000+ on a good website just makes sense.
What does it take to go from complete zero to having a REAL web design business?
By "real" I mean a thriving business that supports you in whatever you want to do in life. Not a tiny freelance business where you barely make ends meet and all of your time is spent on finding clients and delivering work.
I'm talking about the kind of business that:
Can actually work for you, no playing around
You can start with little to no downside risk
You can be cash-flow positive in a short amount of time.
You can start even if you don't have $10,000 to invest
You can start from the top instead of the bottom
You can start and keep going for more than a week
You can start easily with no need for staff, an office, in-person meetings or supply chains
You can start and build a skill set that is useful in any business
You can start working toward your Fastlane plan right now
You can start with only the skills and experience that you already have
Everyone has to start somewhere. Web design works great for getting your foot in the Fastlane door. This is for people who are entrepreneurial. We will
NOT
be teaching or promoting a lifelong freelance lifestyle.
A better path to start a web design business in 2022...
If you've been around the forum for a bit, you may know what Fox Web School is and how things are going. If you haven't seen my other threads,
the quick version is that Fox Web School teaches you how to build and sell high-profit websites fast even without experience.
Since this might be your first time hearing about us, we have a really popular and respected Youtube channel: (
Fox Web School Youtube channel
) that you can check out to get a feel for who we are.
We put out a ton of free content to show that we know what we are doing, and if you want a place to start, I did a full series recently helping a real-life boxing gym build a website:
Full Playlist on Building a Website for a Business
Along with this, I also published a
Web Design book last year
to help beginners focus on the right things. It is still the #1 book in its niche since launch and has great reviews.
(thanks
@MTF
who helped with this project!)
Those are both great resources for anyone who isn't ready to dive into the deep end for big results. For everyone who wants to go big from the start, that's where Fox Web School comes in...
Introducing: Fox Web School
Fox Web School was built to teach you a rock-solid foundation of Fastlane skills. Our goal is to take anyone starting their Fastlane journey and get you moving with your first profitable online business asap. The reason we teach web design is because it works so well as a startup business.
But it's not just about coding websites. We teach you important skills like sales, marketing, copywriting, communication, problem-solving, management, adding value and the other skill sets that every Fastlane business needs.
Ultimately, the goal is to build you up into a
confident entrepreneur who can succeed with ANY business you start, not just web design.
Overall, this isn't a technical program.
It is a way for non-technical people to start a business immediately
and get results fast. The original thread covered this well,
so if you want more details on the program, check that out here
.
You don't need to be able to code or design to have huge success in web design
. There are so many tools that do the technical side for you. Success with web design today
is 99% having the right focus and mindset.
Also, just a quick note on the overall web design industry; it is consistently profitable. This isn't a trend that comes and goes. It isn't drop shipping or multi-level marketing. Every business needs a website to stand as the face of their brand, and to help them sell and market their products and services. Ask any business owner if they want more sales, more market awareness, better online systems. The answer is always, "yes."
The reason most web designers struggle is due to taking a traditional approach (no focus on solving problems and way too much focus on flashy design that does nothing). So that isn't what we teach. Instead,
Fox Web School shows you how to build good websites fast that can easily turn a profit for your clients so they're happy to pay you more and refer you to their friends.
In short, web design is one of the fastest, easiest ways to start a profitable business that you can leverage for whatever level of Fastlane success you want. It's possible to learn this on your own, but at Fox Web School, we show you how to build a successful web design business as fast as humanly possible. The core benefit is that you put yourself around other people who have already made the biggest mistakes so they can help you avoid them for faster success.
What do I get when I join Fox Web School?
This is MORE than just a web design course. Yes, there is a course with over 40 hours of training that walks you through the exact steps to succeed in web design and business, but there is also a lot more than that...
When you enroll as a Fox Web School student, you get access to:
40+ Hours of web design and business training
Live group video calls hosted by Rob
A global community of successful entrepreneurs
Accountability groups for students that want an extra push
Mini-courses from industry experts on skills like copywriting and SEO
Live Guest Calls with experienced entrepreneurs
Email templates for every stage of the web design process
Basically, FWS brings together every advantage that a new web designer could possibly dream of. It's all put together as part of a single repository of resources where you can solve any business challenge no matter what you face.
Fox Web School Curriculum
Below is a full breakdown of the modules in the course area.
Section 1: The Big Picture
Section 2: Mindset & Self-Belief
Section 3: Habits & Discipline
Section 4: Prospecting Strategy
Section 5: Starting to Prospect
Section 6: Advanced Prospecting
Section 7: The CORE Sales Process
Section 8: Sending Proposals that Sell
Section 9: Starting a Website Project
Section 10: Learning How to Code
Section 11: Making a Website Plan
Section 12: Creating a Website Design
Section 13: Website Content & Images
Section 14: Wrapping Up a Project
Also Included in Your Membership:
Private Student Group
Weekly live calls
Guest live calls
Student support system
Bonuses for Joining Now
Access ALL past live calls ($995):
Benefit from the knowledge of past training sessions.


FREE Facebook Ads Course ($995):
Get started with Facebook Ads even on a budget.


FREE SEO Starter Course ($495):
Learn the fundamentals of SEO so you can offer it as an add-on service.


FREE Pro Copywriting Course ($495):
Learn to write good copy even if you're not a copywriter and upsell it as a service.


My private email template pack ($195):
Enjoy useful email templates for every scenario that you might encounter.
When you join Fox Web School, you get every possible advantage that a new web designer could hope for. It's all put together as part of a single repository of resources where you can solve any business challenge no matter what you face.
If you get stuck, just review a course module, or show up on a live call to ask for help, or reach out to someone in the group for accountability and feedback.
Virtually anybody who joins FWS can be successful if you really want to. The path to results is proven, replicable, and scalable even if you've never started a business before.
Do Fox Web School students have proven results?
Yes.
Our students consistently outperform traditional web designers. Many earn in the mid to high 4-figure range for their very first project.
For the program itself, I asked people to leave a review
on TrustPilot
:
Many more reviews were left right here on the forum and you can read a bunch of them
on the last thread we had
.
Just to add a few in here:
View attachment 41620
Also to get into more specific results I want to share data on
two commonly asked questions
:
1) What is the average time to land my first project:
Most students land their first project in a few weeks. We have a really good system for helping people take action right away and get out there successfully selling in the marketplace.
Many students need to build up to bigger wins with smaller initial projects, but once you've sold a few websites and as your confidence in Fox Web School grows it isn't hard to scale up and get into the $3k to $10k range per project.
To be able to pay yourself $3,000+ in per month profits is highly doable within 6 months.
After you get profitable you can take it further (sales that are $10k to $20k+), start offering more services along with web design (SEO, FB ads, etc.) or start to build that next-level Fastlane business right away.
2) What is an "average" sale for Fox Web School students?
Once our students get past the starting stage, the average sale is around $4,000 to $8,000. Some students go much higher but $4k to $8k is about average for most students who consistently sell.
Quite a few students offer additional services which gives you a higher Lifetime Value for each client but I got no way to accurately know what that number would be. This could be anything from a $100 to $200 maintenance plan or a $600 to 1,000+ SEO plan.
Also, keep in mind that with web design $4k to $10k is the sweet spot where you can max profits (for time/effort put in) and do your highest ROI work. I've worked on up to $20,000 projects personally and while it sounds cool I would have been better off just doing three $6,000 projects instead. The goal isn't to set records but to maximize your profits and skills for leveraging elsewhere.
Also what is harder to quantify is the results bigger than just the project sales.
We have helped people
quit jobs they didn't like, move countries, travel the world, improve their confidence and well-being, take up cool new hobbies,
and a ton of other fun stuff.
To me, this is the most rewarding part...
Overall, Fox Web School is truly fulfilling its mission. The vast majority of our students are very happy with our training. We really care about those who join us and we want you to succeed, so we do our best to make sure every single person gets massive ROI and a real boost towards their big business and life goals.
Will Fox Web School training work for me?
The simple answer? Maybe. Our training has helped a TON of people get up and earning with huge wins, but you need a certain mentality to really have success (a mentality that you'll learn inside if you haven't developed it already).
If you commit fully, you can make this work.
We have students from dozens of countries - people going to school full-time and others with full-time jobs, people with family and other commitments and so on. None of these "barriers" were an issue.
The Global Fox Web School Student Map...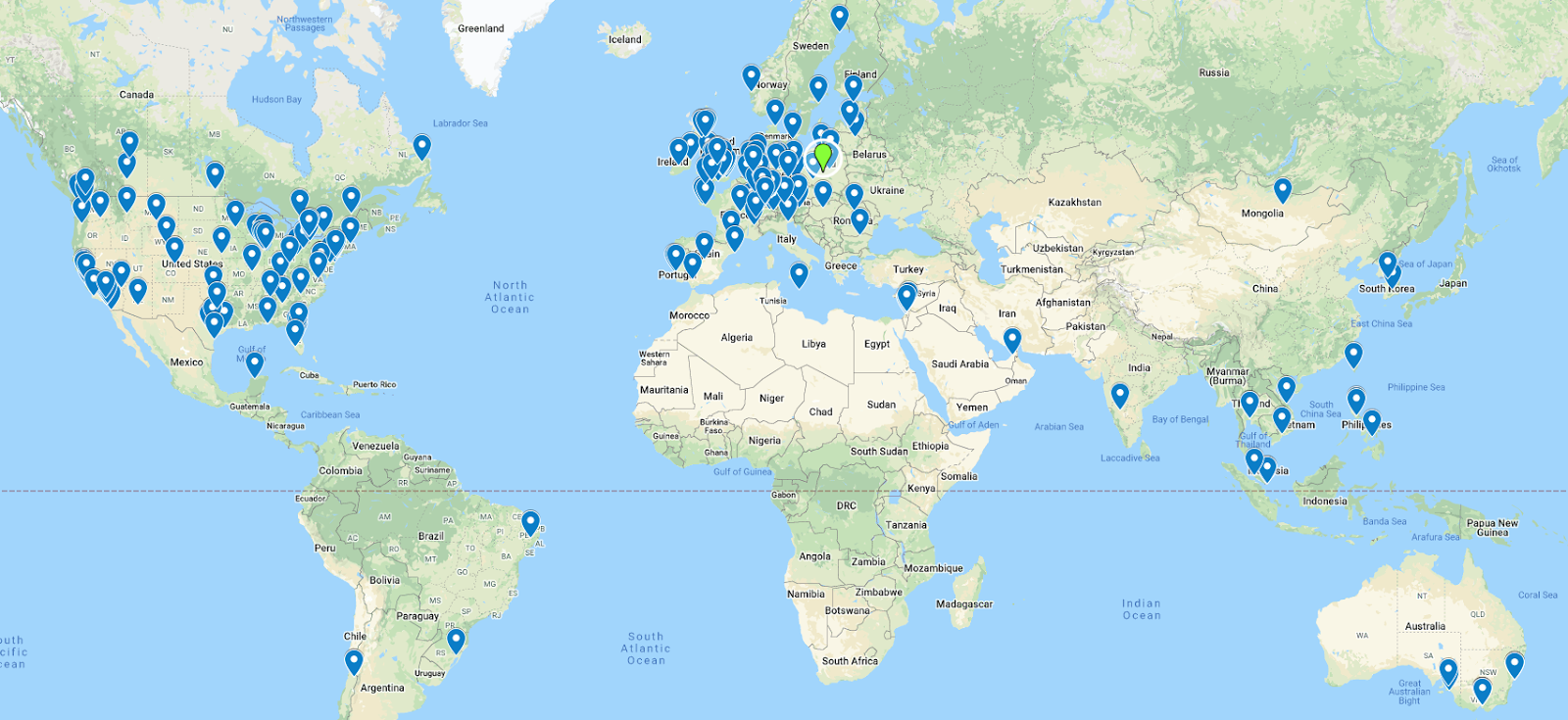 Technical skills are NOT needed to get started.

There are so many ways to make websites that virtually anyone can learn to create a professional site within weeks.

It really just takes commitment and action.

Join now and show up every single day and we will walk you step-by-step through this process to get you profitable. Along with a ton of support, we also work on areas like motivation and focus to help you stay on track.

For myself personally, web design was the first business venture that really took off after a long string of initial business failures - so don't feel like you need to be already successful to make this work. We expect that you're starting from scratch so any past experience is just a bonus that helps you out.

Frequently Asked Questions



How soon do you think I can quit my full-time job?

Realistically, once you get the hang of selling your services, you can expect to earn at full-time income levels and beyond within your first six months as a web designer even with no prior experience.

What is the hardest part of getting profitable with web design?

The hardest part is overcoming your own mental blocks and limiting beliefs that self-sabotage you by holding you back from taking the necessary actions required to reach success.

Do you offer payment plans?

Yes, once you click through to the checkout page, you will have options for payment in full or to pay across as many as 4 installments to make it as easy as possible for you to overcome your fears and take your first step.

Can I hide in the shadows of my mom's basement and expect success?
NO!

Fox Web School REQUIRES you to take action to stay enrolled in our program. Within 30 days of joining you must complete 10 hours of course training, post at least 5 times in our discussion group, and make at least 2 live calls. This is a condition for all students (and it is what normal students would do anyway).

Is there a money-back guarantee?

Yes, as long as you meet the conditions above, then there is a 30-day money-back guarantee.

What's coming up next for Fox Web School?

As I covered above, we've built a really solid system over the last 2 years for teaching people how to get profitable with web design fast. We have all the content you will need, plus tons of extra resources and live calls/community/support, etc. It works consistently, people love it, our students get great results.

But our focus has always been to help students develop the skills to go beyond freelancing and start an even bigger Fastlane business.

So we've recently upgraded our program to offer even more training on overall "business skills" with the goal that someone can join, learn profitable web design, and then ALSO learn copywriting, SEO, ads, marketing, email systems, basics of e-commerce and more.

The end result is to get you ready to crush any future business opportunities you go after next and to give you a versatile set of profitable skills to always rely on.

So we've invited guest instructors who are experts in their fields to teach their expertise, and we've massively expanded our programs and the value that for every student.

Here are some of the more recent updates:



- Additional skills added to the program

These are programs taught by experts in their fields. We've already added some of these, and we plan to add dozens more over the coming year.

As we release new content into the course, we will update this thread, so keep your eyes open for these announcements.

- Expert guest calls from business leaders

We already have had some great guest calls with web design experts but we also plan to bring in people who have built 7, 8 and 9-figure businesses using web/online skills. This will be really cool to connect what we hope to achieve with the content we already have that helps you get started.

- Improved program set-up and extra resources

We have a solid FB group and community and we're working hard to make it even better. I hope to update this thread shortly with massive improvements as we grow. I got a lot planned here, but I want to wait to actually roll these out before saying what is coming up - updates coming soon!