Legendary Contributor
EPIC CONTRIBUTOR
FASTLANE INSIDER
I've Read UNSCRIPTED
Summit Attendee
Speedway Pass
Jul 25, 2007
7,577
35,476
5,083
I thought people here would get a kick out of my story on trying to buy this Mclaren.
So back on August 30th, I walked in the dealer to test drive this car. They had just listed it at $134,999. They had just got it and their online listing didn't even have photos yet.
They gave me the you can't test drive it until you have a signed offer speech. Fine, I offered $125,000. They said they could only do $132,999. So I walked. I'd also venture to guess that the manager probably didn't think I was a serious buyer.
About a month later I saw the price lowered to $133,999. I called them and said my $125k offer still stands. They said no.
Sometime around October they lowered it to $129,999. I called and offered them $120k. They said that they could NOW accept my original offer of $125k.
I started saving these screenshots after I kept seeing the price go down below my offer.
Now, I have this car saved in my cars.com app so I get a notification every time they lower the price. In November, I get the notification that the car is now listed at $124,999. I call them and offer $115k. They of course say no.
In December I bought another Mclaren from elsewhere.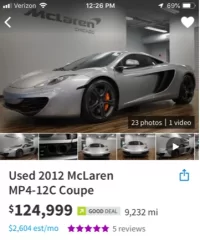 On January 1st, they lower it to $116,399.
And today they lowered it to $114,999. The price I offered them in late November.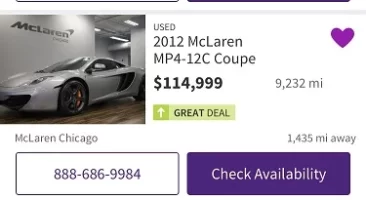 I wonder what they will finally get for this car. I wonder if they would take $105k now?
Just think, they could have sold the car in less than a week at $125k in August. Or $115k in November. Now it's February and it's still sitting there taking up space and capital.
Don't like ads? Remove them while supporting the forum. Subscribe.