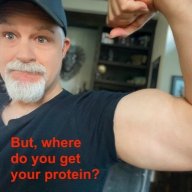 I followed the science; all I found was money.
Staff member
FASTLANE INSIDER
EPIC CONTRIBUTOR
Read Rat-Race Escape!
Read Fastlane!
Read Unscripted!
Summit Attendee
Speedway Pass
Jul 23, 2007
35,620
142,135
Nice article on Forbes where an entrepreneur plugged The
Millionaire Fastlane
and profiled a couple million dollar revenue guys working solo. In
@Vigilante
's thread "
Changing in Latitudes
" we discussed how sweet it is to work alone without the headache and hassles of employees.
How Bold Entrepreneurs Are Breaking $1 Million In One-Person Businesses
http://www.forbes.com/sites/elainep...-breaking-1-million-in-one-person-businesses/
Nice start to my weekend.
"It's a lifestyle," he says. "We don't want to work 14 hours a day to make $1 million a year. I like to go running during the middle of the day. I like to be able to have a life and not be chained to my desk 12 hours a day."

Some of these million-dollar businesses are inspired by writers such as outsourcing guru Tim Ferriss, author of

The 4-Hour Workweek

, and MJ DeMarco, author of

The Millionaire Fastlane —

whose book on entrepreneurship Walton says changed his life. "It trains you to shift the way your brain thinks from a consumer mindset—"I'm going to spend all this money I don't have" — to a producer mindset, where you provide value to other people and in return become valuable," he says.
Last edited: