Who am I?
My name is Martin, I'm 22 years old and live in Germany.
I started my slowlane life with 15 years old. With 19 i went back to school to have a "break" and find out what i want to do with my life. Then working in the same construction job for the next 40 years sound not really like fun to me.
Around that time I watched an interview of some dude who makes millions with Instagram theme pages and that got me hooked . I wanted to do the same, so I started an Instagram page in the finance niche, I didn't have the
goal
in mind to make some money rather to gain some experience with "marketing".
Fast-forward and a few years and I'm working from home with for me good paying job (31k).
I still live with my parents, but that gives me the ability to save up to 60% of my monthly income and take some major risks.
What is my goal?
I want to build myself a lifestyle business and travel the world while working.
I aim for an income from 5k per month trough (mainly)
SEO
services (my normal salary is not included)
With that amount, I can travel and have also money to save and invest in future ideas.
What I do after that is not 100% clear, but I will decide it when I am there.
My
goal
is it to reach that level till the 24.04.23.
When not, I will extend the deadline and will try to find a new job in a
SEO
agency.
What is my plan?
1. Learn SEO
Im "learning"
SEO
for quite some time but never executed my learned knowledge.
This month I bought a
SEO
course about affiliate and local
SEO
and began to apply the learned knowledge.
I consider that phase done when I have ranked my own page to the number 1 spot of a search term.
I will mainly focus on local
SEO
(+GMB) than it's the easiest form of
SEO
and I can get there pretty fast results
I currently have 3 sites, 2 of them are Local
SEO
pages and one is a ecom / affiliate site from a past project.
I'm currently planing to publish 2 new sites within the same niche, to try what works for each difficulty (Each keyword / search term has a differnet difficulty, and according to that it's easier or harder to get a site to the first page of Google.
When everything goes as planed I have by the end of the year a few sites on the first page of Google and can consider that phase done.
2. Find a niche
I have already a niche in mind but need to prove that this industry is really worth procuring.
By picking a niche, I will look at:
-How much do they charge for their service ?
-How high is the competition ?
-Are the companies willing to scale?
-Do they have a problem with getting new employees?
In the beginning, I will offer my services for free to get some results that I can use as references. Also I want to use that time to building out an offer with the existing costumers to match their needs.
3. Getting Costumers
In this phase, I will focus on getting costumers and getting them great results.
I think I will start with doing cold outreach, later on i will probably try to rank for specific kw for that niche. (Like "
SEO
for plumbers")
I have already a broad pricing in my mind, but to that more to a later point.
How will this thread look like?
I will write here every Sunday an update to my progress and share some insights.
Week: 34 / 2022
Im currently tracking how much time I spend working on my biz.
This week it was: 8h
I tried this week, get up a few hours earlier and use that time for the biz. I did it only 3 days, but the results weren't that great.
So I think I will go back to my old habit with working after work.
Also, I wasted a lot of time this Saturday I spend only 3 hours working, that something I want and need to improve.
I spend currently to much time on YouTube and watching some bs videos. I need to improve that over the next week.
I will do that by:
-Go only on my phone after 1 PM
-Be more mindful when i have my phone in my hand
-Stop using my phone when I'm on the toilet
-Install a YouTube feed blocker.
I created a spreadsheet with all information for the site I need. So that i just can enter the sheet and know what to do. I also use it as an access point to link out to the text documents for each article that I have written,
It's the first time I use it, but I like it and probably will use it for my other sites too.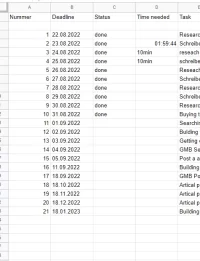 Overall, I'm happy with my progress this week.
I'm a few days ahead of my schedule with the 3te site and expect to finish the 4te till week 36 / 37
Goals
for next week:
-Getting the 3te site published
-Writing 3 new articles for the future
-Finding someone to verifies the GMB
-Making an appointment for my driving test
-Making an appointment with the doctor (nothing serious)
When you have any questions or suggestions, feel free to share them