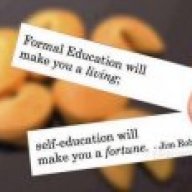 Bronze Contributor
Read Fastlane!
Speedway Pass
I've recently been researching building an app (a computer video game for mobile devices and Facebook), and was curious as to why consumers engage more heavily with some apps than others. A logical place to find the answer was with a case study: why
Angry Birds
is so successful. So I found the following article
Why Angry Birds is so successful and popular: a cognitive teardown of the user experience
and it reminded me why having at least a basic understanding of human psychology helps businesses develop better products and solicit better responses from their target markets.
Just some food for thought. This kind of thinking and analysis by a business is what makes some really great.