The book Profit First by Mike Michalowicz was recommended through two podcasts I listen to, EOFire and Soloprenuer Hour. I decided to grab the audio book and check it out. Not only was it pretty funny to listen to, it was a really interesting take on business accounting.
The basic premise of Profit First is that we keep track of our revenue and cash flow by utilizing different bank accounts and pull Profit out of our revenue before doing anything else.
It works with the psychological understanding of how people perceive money and resources. Instead of complicated GAAP accounting that the average person cannot understand, you have 5 accounts to hold money. Each account gives you a realtime view of how much money you have.
The accounts:
Real Revenue
Profit
Taxes
Owner pay
Operating Expenses
All accounts receivables flow into the Revebue account. Twice per month, you automatically allocate predetermined percentages into each account.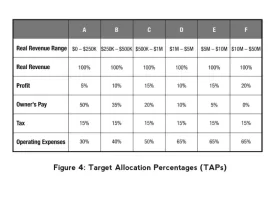 This way you don't take money that should be paid to Uncle Sam and use it to pay bills. The other big part is that you take money for yourself. This follows a common practice that MJ talks about, Pay yourself First.
The psychology used here is similar to using smaller plates to control food portions. If you have less money in your Op Ex account, you won't overspend.
And by paying yourself first you don't kill your spirit by buying a job (a bad paying one at that)
Has anyone read this book or heard of Profit First?
Does anyone use this to run their business?
When I get to the point to where I open a bank account and start looking at actually collecting revenue, I'm very interested in implementing this.
Curious to see everyone else's thoughts on this.