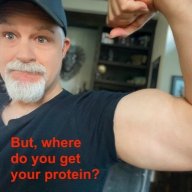 I followed the science; all I found was money.
Staff member
FASTLANE INSIDER
EPIC CONTRIBUTOR
Read Rat-Race Escape!
Read Fastlane!
Read Unscripted!
Summit Attendee
Speedway Pass
Jul 23, 2007
35,622
142,153
This forum has been around for 10 years and I can't believe I never started a "stock" thread.
Guess now is as good as a time as ever.
For those of you who dabble in the stock market for medium to long-term holds, what stock has piqued your interest?
What stock do you foresee will be the next NVIDIA? The next Apple? What company do you want to own and be a part of?
Or, what dividend/income stocks are you owning for regular income?
I'll start...
I have several brokerage accounts and most of them are set up for options for income, but I do employ the Paycheck Pot strategy as outlined in
Unscripted
.
Here are some of the stocks I own (have owned, or will own) -- keep in mind I do cycle in and out of many of these because of the rules outlined in
Unscripted
.
I've set up my TDAmeritrade account to send me a monthly dividend check. Typically they just deposit the dividends in the account but I expressly requested to be sent a check, kinda like a paycheck. I love that every month I get a physical check. I know, old school.
Additionally, I write a lot of covered calls on these positions, if available. (Many dividend/MLP stocks do NOT have options.)
Here's what I hold, have held, or will hold....
AMTD - Ameritrade (Paycheck Pot)
MZA - Tax Free Arizona Municipal (Paycheck Pot, Tax Free Income)
SO - Southern Company (Paycheck Pot)
F - Ford Motor Co (Paycheck Pot)
FAX - Asian Debt (Paycheck Pot) [Sidenote: been out of this one for YEARS but I believe it has bottomed]
PMT - Penny Mac Mortgage (Paycheck Pot)
CGBD - TCG Biz Dev (Paycheck Pot)
HEP - Holly Energy (Paycheck Pot)
STAG - Stag Industrial (Paycheck Pot)
LTC - LTC Properties (Paycheck Pot)
OIH - Omega Healthcare (Paycheck Pot)
EPD - Enterprise Prod. Part (Paycheck Pot)
VTR - Ventas (Paycheck Pot)
CVX - Chevron (Paycheck Pot)
VZ - Verizon (Paycheck Pot)
MPLX - (Paycheck Pot)
AGD - Global Dividend (Paycheck Pot) [Sidenote: Typically a bad investment, looking to see a NAV appreciation gain, steep discount)
On the Closed End Funds, I tend to make buy/sell decisions based on NAV/Price fluctuations, looking at premium/discount averages, highs, and lows.
Due to the tenuous market, I'm short a lot of calls on this stuff, including long market puts to insure a downside. And yet, the paycheck keeps coming.
As for speculative stuff...
Just ...
ACB - Aurora Cannabis, Speculative (FU Pot)
MJ - Short a ton of puts, pot ETF
EEM - Emerging Markets (looking at a short term swing, assuming no recession)
Overall, I'm not heavy into the market currently because of my late summer prediction of a coming recession. That still looks to be highly probable.
Any stock you want to mention? Post away!