Limitless
Read Millionaire Fastlane
I've Read UNSCRIPTED
Speedway Pass
Nov 14, 2011
2,486
10,351
2,556
Imagine being one of the first people to build a following on Instagram or Snapchat before it became popular and saturated. While everyone else is trying to fight their way to the top, you area already have tens of millions of loyal followers who are more than willing to buy your products.

Wouldn't that be nice?

This is one of those opportunities...

The Opportunity
For the past 10 months, I've been immersing myself in a new market - and I've noticed a massive amount of opportunities for entrepreneurs who are looking to enter a market with a potential to be very successful ...
I originally got involved with them while doing research for a book I'm writing, and I'm starting to learn about the opportunities that are on the table to start a business in this market.
Investment group looking to invest $1.25 Trillion:
http://www.onegreenplanet.org/news/...ies-to-ditch-meat-and-focus-on-plant-protein/
One of the largest meat producing companies begins investing in a plant-based protein company:
http://vegnews.com/articles/page.do?pageId=8489&catId=1
Why is this a great market to be in?

The passion.
For many of you, you may have the image of vegans being "angry". After taking the time to get to know things from their point of view, I started to understand where they came from, and there is a lot of energy behind what they do.
Most people view veganism as about health - The most common replies I get when I talk about it is comparing it to the Paleo Diet.
But when you get to know the market, they do this to save the lives of animals.
Imagine for a moment that your loved ones: Your family, your kids, your closest friends, your lover - is packed up in a cage, sent to a warehouse, and murdered - and then packaged for food.
I'll keep it PG here - but there is a documentary called
Earthlings
that goes into detail about why they feel so passionately about their cause.
What extent would you go to in order to save your loved ones from murder?
That's the same energy that all of your customers would have to help grow your brand.
If you support this movement, they will support your company at all costs. I've seen over 100 vegans go into a supermarket with fliers petitioning the place to cary a type of vegan cheese....and then that company got instant retail distribution.
I'm sitting here in Geneva, Switzerland with my friend and she is vegan. She says that when a new vegan product comes out - everyone in her community buys it.
AKA - Free advertising
What happens when 16 Million people are so passionate about growing a moment that will grow your business?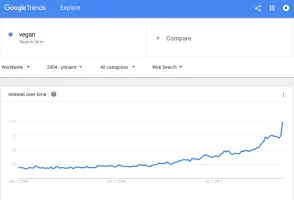 This is more than just a trend.
They are comparing this any social justice movement (such as civl rights)- where once the change is made, it's here to stay.
It's not like Pokemon Go
So in the past, when you might have viewed animal rights activists as "angry vegans", now you can understand that the
energy
behind all their actions is based on passion - and your very customers will be the ones who will do anything to grow your company...because you support something many of them would do anything for.
So yeah - I'm niching down my business to work in this market in my own unique way.
Vegetarians - don't eat meat, but they DO eat dairy (cheese/milk,etc.).
Vegans - don't eat meat, don't eat any products that come from animals (dairy), and don't use any animal products such as leather.
Opportunities off the top of my head:
Cosmetic products - A lot of these products are tested on animals (which is a big no-no in the vegan communities). By solving this, there is a lot of room to grow here.
Food products
...more to come.
I'm personal working in this market and reaping the benefits from it; and made this post so some of you can do the same.
Ride the wave while it's getting started, or one day you may look back and realize it's already too late...
Don't like ads? Remove them while supporting the forum. Subscribe.