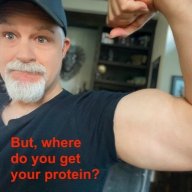 I followed the science; all I found was money.
Staff member
FASTLANE INSIDER
EPIC CONTRIBUTOR
Read Rat-Race Escape!
Read Fastlane!
Read Unscripted!
Summit Attendee
Speedway Pass
User Power
Value/Post Ratio
439%
Jul 23, 2007
37,064
162,604
One issue I have personal battles with is Paralysis of Analysis (POA). When you're confronted with a choice, do you weight your options and decide quickly? Or do you get stuck in analysis mode, constantly thinking and mulling over your available choices? Paralysis of Analysis is just that: Paralysis - the inability to move -- the inability to take action and make a choice.

Don't confuse analysis with action as analysis is one step above *thinking*. Thinking and analysis never made anyone wealthy -- only the action that follows it does. Conversely, the action of not taking action is equally valuable in certain situations.

Analysis, preparation, and research are all worthwhile and necessary -- however, making a choice on your analysis - is what gets things moving.

Analysis is like gassing up your car and starting the engine: It prepares you to go somewhere. However, if you don't hit the accelerator, you don't move. The accelerator is action. Its movement. It takes you places.

So if you're experiencing POA, make a decision and get out of analysis mode:

1) Make the choice to do nothing and move on

or

2) Take action on the data you've analyzed, adjust, and move forward.

For me, I use a weighted average decision matrix to make complex decisions - yes, nerdy, but effective.

How do you overcome "POA"?