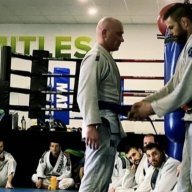 I Will Not Stop!
EPIC CONTRIBUTOR
Read Fastlane!
Read Unscripted!
Speedway Pass
Sorry for this blunt approach, but to me, and to a lot of orthopaedic surgeons I guess, Hoff'as impingement syndrome isn't a proper diagnosis. It is just a symptom but not a cause. So you have to know what is the root to this. It kinda sounds like a patellar instability but it's really hard to tell without being able to test your knee IRL.
My advice would to go see a very competent knee surgeon in your area but these are not easy to find. Try to know where your local professional sport team gets medical care. There are great surgeons in Australia. Be wary of anyone trying to sell you a meniscectomy, it's forbidden at your age (I guess you're born 1990) except in very particular cases.
If you have any tight muscles, you may, whatever is your pathology, benefit greatly from stretching seriously everyday.
Yeh i know the cause, i was doing brazilian jiu jitsu, and a training partner who was new to the sport, drilled a technique on me.
Incorrectly and smashed his shoulder directly into my knee cap.