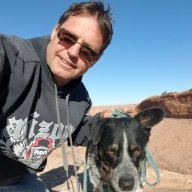 Legendary Contributor
FASTLANE INSIDER
EPIC CONTRIBUTOR
Summit Attendee
Speedway Pass
Jul 24, 2007
4,102
18,214
I feel your pain. Have dealt with this most of my life.

The advantage that I have had is that I don't recognize some of the times that I should fear the situation. I also have this irrational behavior that makes me tend to plow right into the middle of something that I do fear. I put on the "war" face and charge...

I once was attacked by a mountain goat. It ran straight at me with horns out. I screamed like a banshee and charged back at it. Damn thing turned and ran but charged back again. I did the same. The second time I could have reached out and slapped its a$$ it was so close. Off it ran up a cliff. The other two guys with me cried out from their hiding places "is it gone yet?".

Adrenalin. Use it.

Btw... There was an article this morning about a grizzly bear that was killed by a mountain goat. Guess it didn't want to be eaten.