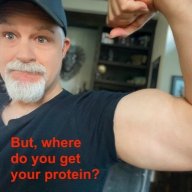 I followed the science; all I found was money.
Staff member
FASTLANE INSIDER
EPIC CONTRIBUTOR
Read Rat-Race Escape!
Read Fastlane!
Read Unscripted!
Summit Attendee
Speedway Pass
User Power
Value/Post Ratio
431%
Jul 23, 2007
36,350
156,539
Quick question MJ — what about changing the formula for User Power to something like:

Likes / sqrt(Posts)

Here's the idea… we want a rating that takes into account both the QUALITY of contributions (that's the ratio of likes to posts), AND the QUANTITY, in a single number.

If we have two users as follows:

U1: 100 likes, 2 posts

U2: 10000, 200 posts

Then the current formula says their User Power is equal, ie 50.

But intuitively we know this isn't quite right, since the quantity of contributions isn't taken into account.

The new formula takes it into account — it gives 70 U1 and 707 U2, which imo is much more accurate and reflective of both the QUALITY of their contribution AND the QUANTITY.

The way I came up with the formula is by reintroducing the quantity of likes by multiplying L/P * L. Then took the root of it to normalize it, leading to:

L/sqrt(P)

So here's a few examples:

Kak — 8,992P 41,094L — 4.57 Current

MJ — 35,918P 150,591L — 4.19 Current

Andy — 16,252P 59,588L — 3.67 Current

Myself — 1,497P 4,063L — 2.71 current

Fox — 3,550P 23,945L — 6.74 current

BizyDad — 1,986P 6,689L — 3.37 current

If we order those from high to low, we get Fox, Kak, MJ, Andy, Bizy, Myself.

Here's with the new formula:

Kak — 433

MJ — 795

Andy — 467

Myself — 105

Fox — 401

Bizy — 150

So the order becomes: MJ (the KING haha!), Andy, Kak, Fox, Bizy, Myself.

I feel this last order is a MUCH better reflection of contributions.

What do you think?

@MJ DeMarco
Good work. And not because I ranked higher.
Yea, I have to take a deeper dive into this but it seems more mathematically accurate. There might be an issue as Xenforo template language likely won't accept a Square Root in the equation.